Center for research and education in optics and lasers (CREOL)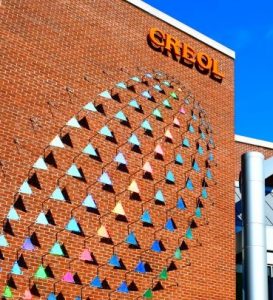 The Center for Research and Education in Optics and Lasers (CREOL) is the larger of four research centers within The College of Optics and Photonics, and is the foundational element of the College. Originally named "The Center for Research in Electro-Optics and Lasers", the name was later changed replacing Electro-optics with Education to better identify with the Center's goals of providing a well trained work force to the local industry. The establishment of CREOL was a result of a recommendation by the Florida High Technology and Industry Council (FHTIC), formed by then Florida Governor Bob Graham to lead the definition of what industries should be emphasized to build the state's high-tech economy. The University Board of Regents approved such establishment of an optics center in 1985, and in 1986, the Florida legislature acted to provide $1.5M of permanent, recurring funds to the University of Central Florida (UCF) budget to support CREOL. It is this second milestone that has been chosen as the founding date of CREOL, even though the first Director, Dr. MJ Soileau, and other founding faculty and students, would not arrive until early in 1987.
With an unwavering commitment to excellence in research, education, and industry partnership, CREOL developed rapidly, enabling the establishment of the School of Optics in 1998 when the first graduate degrees in Optics were awarded by UCF (from 1986 to 1998 CREOL graduates had their degrees awarded in Optical Science and Engineering). With continued success, the promotion to a full college came in 2004 and called "The College of Optics and Photonics" with the distinction of being the first full college in optics and photonics in the nation. A more complete history of CREOL's development can be found here.
Today, CREOL is an internationally recognized center of excellence for research in a wide range of optics and photonics technologies. Its founding values of excellence in research and education, and unwavering commitment to effective partnerships continue to guide its future.
Florida Photonics Center of Excellence (FPCE)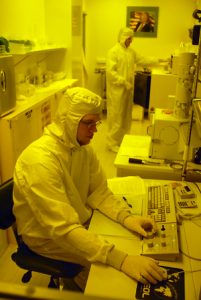 The FPCE was established with a $10 million grant from the State of Florida to create a new center of excellence within The College of Optics and Photonics at the University of Central Florida. The program began in 2003 with three primary goals: Advance excellence in research and graduate education to serve existing and emerging industry clusters in the state (photonics, optics, lasers), leverage state resources via partnerships with industry and government, and work in partnership with local, state and regional economic development organizations to attract, retain and grow knowledge-based, wealth producing industries to Florida. The focus of the FPCE research and education work has been on the technologies of nanophotonics, biophotonics, advanced imaging and 3D displays, and ultra-high bandwidth communications, all of which are forecast to experience rapid market growth. The grant has been used for developing the research infrastructure (new faculty, new facilities, new equipment), funding competitive R&D Partnership Projects at Florida universities in partnership with Florida industry, and pursuing commercialization and outreach with the help of the FPCE Industrial Advisory Board, the UCF Technology Incubator, and the Florida Photonics Cluster.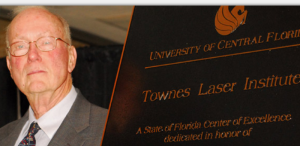 The Townes Laser Institute was established in 2007 in the presence of and in honor of Charles Townes, inventor of the concept of the laser, and a 1964 Nobel Laureate for Physics. Established for the development of next-generation lasers and their uses in medicine, advanced manufacturing and defense applications, the Institute was funded by a $4.5M grant from the State of Florida, together with matching funds from UCF for 5 faculty positions and $3M for start-ups and infrastructure. Since its founding, the Townes Laser Institute has grown to a faculty of 14 and has developed major capabilities in optical fibers, attoscience and new laser materials. It has made significant investments in optical fiber pulling facilities, pre-form fabrication, glass science and processing. It is currently building up a comprehensive capability in transparent ceramic laser materials. Future areas of investment include mid-infrared sources and materials, medical laser technology, laser-bioengineering, advance laser-based manufacturing and new defense-related laser technologies including long-distance laser light propagation through the atmosphere. The Townes Laser Institute is directed by Peter Delfyett.
Institute for the Frontier of Attosecond Science and Technology
The Institute for the Frontier of Attosecond Science and Technology (iFAST), directed by Prof. Zenghu Chang, is established in 2013. At the present time, iFAST has 6 research groups dedicated to research, education and outreach of attosecond physics and optics. The mission is to provide unique opportunities for faculty, scientists and students from the College of Sciences and CREOL to closely collaborate in attosecond science research, create and disseminate new knowledge in attosecond physics by conducting, presenting, and publishing cutting-edge fundamental and applied research and develop next generation attosecond lasers for technology transfer and creating jobs in the State of Florida and the nation. An $8 million DARPA PULSE and a $7.5 million MURI have been awarded to Chang and his collaborators to develop high energy and ultrashort attosecond light sources.
Affiliated Research Centers
The University of Central Florida has several nationally and internationally recognized research institutes in addition to the three at CREOL, The College of Optics and Photonics that are devoted to research and development.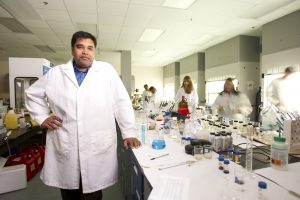 Advanced Materials Processing and Analysis Center (AMPAC)
The Advanced Materials Processing and Analysis Center is an interdisciplinary research and education center for materials science and engineering, one of two major UCF research centers that comprise the Center of Advanced Materials and Nanotechnology. Our two university-wide multi-user facilities — the Materials Characterization Facility (MCF) and the Advanced Microfabrication Facility (AMF) – are available to all researchers at UCF and from outside companies, government labs, and universities, enabling them to perform cuttingedge research, and to train and educate students and other personnel in the use of state-of-the-art equipment. AMPAC's vision is to make UCF an international leader in materials science and engineering research and education by excelling in the development, processing and characterization of advanced materials to achieve prominence in targeted research areas; providing leadership to the UCF Materials Science and Engineering research and education program; and enhancing economic growth and promoting industrial development through effective partnerships with industry.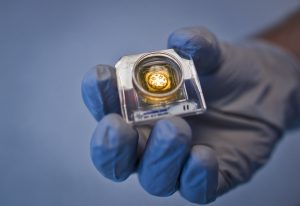 NanoScience Technology Center (NSTC)
In 2004 the Nanoscience Technology Center (NSTC) was formed with formed with a $4M grant from the state of Florida when leaders recognized the potential of nanotechnology as its applications in medicine, materials, computing and electronics began entering the mainstream. Since that time, NSTC has consolidated UCF researchers across multiple disciplines and hired many more to better respond to nanoscience funding opportunities and to develop the technologies demanded by the industries of the future. In 2007 the NSTC officially opened a 20,000- square-foot renovated research facility in the Central Florida Research Park. A total of 19 faculty, 7 staff and more than hundred graduate students, postdocs, researchers at the center are creating tools to treat neurological diseases; materials that can advance solar and fuel cell technology; and longer batteries that can make ever smaller electrical devices a reality. Current research areas include Green Energy, In Vitro Test Systems, Functional Nanomaterials, Computer/Mathematical Simulations, Quantum Dynamics, Nano- Bio-Imaging, NanoElectronics & NanoPhysics, and Integrated Device Development.
Burnett School of Biomedical Sciences
The Burnett School of Biomedical Sciences is an integral part of the UCF College of Medicine, making the college a research-intensive medical school where cutting edge medical research spans the entire spectrum from laboratory bench to bedside of the patients, providing a great environment of training physicians and biomedical researchers. The School's mission is to provide quality undergraduate and graduate programs in the biomedical sciences and build excellent research programs focused on cancer, cardiovascular, neurodegenerative diseases, and infectious diseases. Our faculty are working to take science from the bench to the bedside. In addition to conducting cutting edge research in biomedicine with potential application to curing major diseases, the School is committed to helping to develop a technology-based industry in Florida. Active partnerships formed with other units at UCF such as the College of Optics and Photonics, the School of Electrical Engineering and Computer Science and the NanoScience Technology Center will facilitate interdisciplinary research and education programs in the innovative applications of photonics, bioinformatics and nanoscience to biomedical problems. The School offers three BS degree programs: Biomedical Sciences; Biotechnology; and Medical Laboratory Sciences. Graduate programs include the MS Biomedical Sciences (non-thesis), an MS Program in Biotechnology, and a new MS Professional Science in Biotechnology. The interdisciplinary PhD and MD-PhD programs in Biomedical Sciences prepare tomorrow's biomedical research scientists.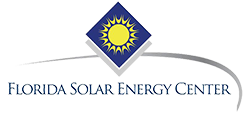 Florida Solar Energy Center (FSEC)
The 
Florida Solar Energy Center
 is the largest and most active state-supported energy research institute in the United States. Located on the Cocoa campus of UCF at Eastern Florida State College, FSEC has gained national and international respect for its programs on photovoltaics, solar thermal systems, energy-efficient buildings, advanced cooling technologies, hydrogen and fuel cells, and the testing and certification of solar equipment. The Center conducts continuing education workshops for professionals, government and industry leaders around the world. Additionally, FSEC offers Science, Technology, Engineering and Mathematics (STEM)-focused opportunities to K-12 and college level-students, professional development for teachers, and renewable energy curriculum and activities to schools throughout Florida.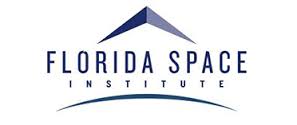 Florida Space Institute
The Florida Space Institute (FSI) supports space research, development, and education activities. In addition, FSI supports the development of Florida's space economy—civil, defense, and commercial.  
Since 1996, FSI has been an institute of the State University System of Florida. FSI is made up of researchers, educators, and staff from various science and engineering departments at the University of Central Florida. FSI research ranges from studying the Earth's upper atmosphere to the origin of the planets and from the workings of asteroids to propulsion technologies for high-Mach aerospace vehicles.  
FSI is involved in space missions as diverse as high altitude rocket launches, next-gen suborbital flights, the NASA Cassini mission to Saturn, and NASA's Explorer program. In addition, one FSI faculty is the Principal Investigator for the Global-scale Observations of the Limb and Disk (GOLD) project which was recently awarded a $55 million grant from NASA. This grant makes UCF the first university in Florida to lead a satellite mission for NASA. The Center for Lunar and Asteroid Surface Science (CLASS), a NASA sponsored Center, is also housed at FSI and the Physics department. FSI administratively houses the Florida Space Grant Consortium (FSGC) for NASA, and operates the Space Research Initiative (SRI) for the State of Florida.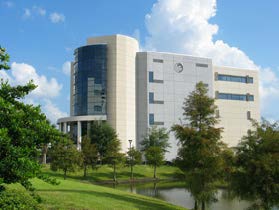 Institute for Simulation and Training (IST)
The Institute for Simulation and Training is an internationally recognized research institute that focuses on advancing modeling and simulation technology and increasing our understanding of simulation's role in training and education. Founded in 1982 as a research unit of the University of Central Florida, the institute provides a wide range of research and information services for the modeling, simulation and training community. Faculty and staff are distributed among IST's three Central Florida Research Park buildings, Partnership II, Partnership III and the Army Research Laboratory Simulation and Training Technology Center (ARL-STTC). Center for Research in Computer Vision The common goal and purpose of the center is to strongly promote basic research in computer vision and its applications in all related areas including National Defense & Intelligence, Homeland Security, Environment Monitoring, Life Sciences and Biotechnology and Robotics. Computer vision is the science of electronically acquiring, analyzing and understanding images in ways superior to the human brain. The CRCV is directed by Dr. Mubarak Shah of the College of Engineering and Computer Science. Shah is also an affiliate faculty member at CREOL.
BRIDG
BRIDG is the only manufacturing development center focused on the integration of next generation semiconductor based processes and materials into advanced smart sensors and photonics devices. It serves as an open-innovation platform for the development of these devices through collaborative programs and shared access to the deposition of III-V and other advanced materials on silicon wafers via state-of-the-art process equipment, metrology tools and testing platforms.
BRIDG is a versatile boutique microelectronics fabrication facility with 200mm (8-inch) wafer fab capabilities.
BRIDG accelerates technology commercialization by providing holistic solutions to bridge technology and capability gaps across multiple fields.
Established in Florida as a not-for-profit, industry-friendly public-private partnership through support of visionary partners
Service areas include research, development, and commercialization
Focused on manufacturing development of advanced technologies in smart sensors, imagers, advanced devices, and 2.5D/3D chip integration
By leveraging technology capabilities, processes, and background intellectual property, BRIDG develops advanced lab/fab and universal technology platforms to provide unrivaled economies of scale needed for cost-effective manufacturing.
Townes Institute Science and Technology Experimentation Facility (TISTEF)
TISTEF is a unique government asset supporting research and development of electrooptic sensing technologies, laser beam wave propagation, and asset tracking located at the Kennedy Space Center in Florida. UCF has agreements with the US Air Force and NASA to operate at the site. TISTEF is a multi-user facility, encompassing indoor laser and optics labs and outdoor test ranges, but is primarily a field test facility.
Other Facilities and Centers
Other organized programs at UCF offer researchers and students additional support in pursuit of their research goals. These include: