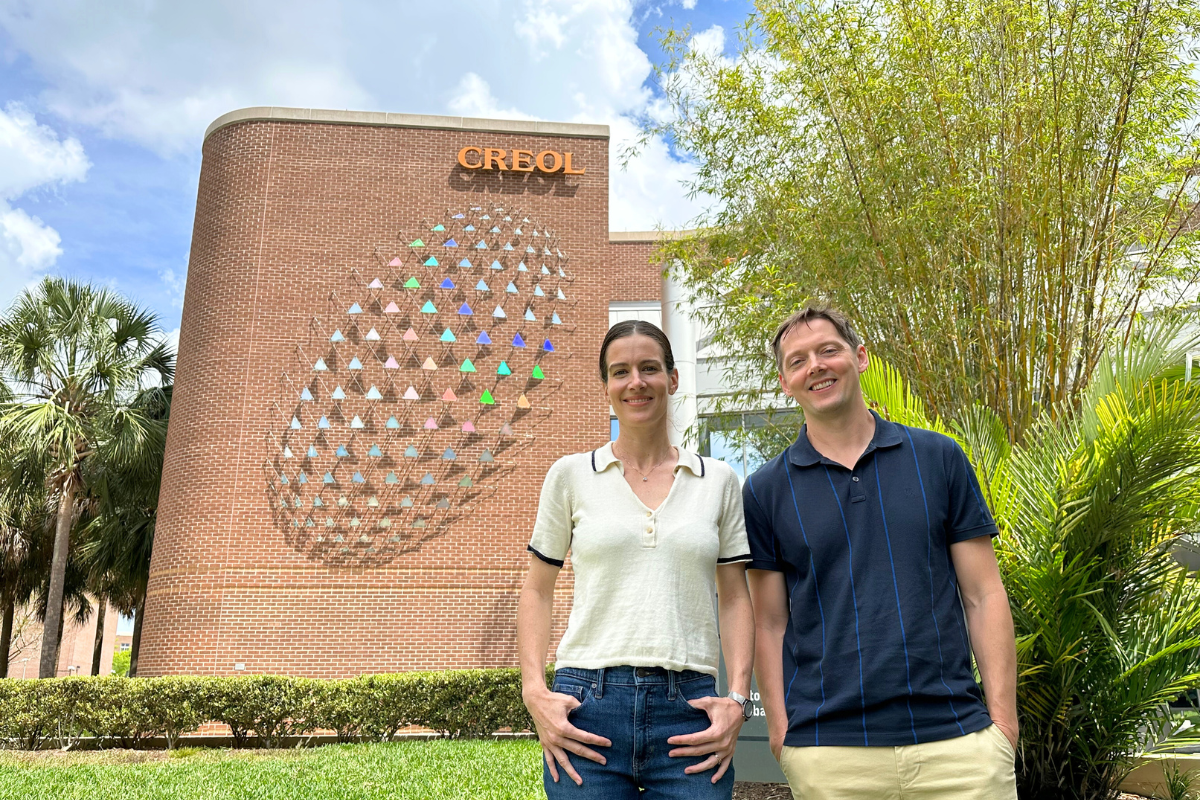 As a result of new investment by the State of Florida and strategic priorities set by UCF leadership, CREOL is undergoing a major expansion and expects to fill approximately 10 new faculty positions in the next two years. This is in addition to new faculty positions throughout the university focused on growing research in semiconductor technologies, artificial intelligence, and space and planetary instrumentation, commercialization, and exploration. 
CREOL is seeking both junior and senior faculty, and several endowed chairs and professorships are available to attract the strongest candidates.
"Thanks to support from the state and the foresight of the university, we look forward to supporting UCF's expanded priority research areas," says CREOL Dean David Hagan. "This is an exciting time to be in the optics and photonics field – so many of the anticipated 21st-century technological breakthroughs are dependent on the study and application of light and CREOL is leading the way."
The first two new hires occurred earlier this month when Dr. Andrea Blanco-Redondo and Dr. Darren Hudson joined the CREOL faculty.
Blanco-Redondo received her Ph.D. in electrical engineering from the University of Basque Country in Spain. She came to UCF from Nokia Bell Labs, where she was the head of silicon photonics research. Blanco-Redondo was previously the Professor Harry Messel Research Fellow and senior lecturer at the School of Physics at the University of Sydney, Australia.
She is a well-recognized leader in the field of topological photonics, silicon photonics, and nonlinear optics. Blanco-Redondo was the recipient of Australia's Geoff Opat Prize and the Ada Byron Award, a nationwide Spanish award for leading women in technology. She has published numerous peer-reviewed journal articles and has presented at national and international conferences including many invited presentations. She served as an Optica (Optical Society of America) Director at Large and Ambassador, a reviewer for the U.S. Department of Energy Office of Basic Sciences, and an Optics Continuum associate editor, among many other service activities in the profession. More on Blanco-Redondo can be found at THIS LINK.
Hudson came to UCF from CACI-Photonics Solutions, where he was a Senior Technical Manager. While at CACI, he secured a $5M program from the U.S. Air Force Research Lab to demonstrate high-power supercontinuum spanning UV (ultraviolet) to IR (infrared). Hudson received his Ph.D. in physics from the University of Colorado/JILA in Boulder. He was the recipient of a DECRA (Discovery Early Career Research Award) from the Australian Research Council and continued his research at the University of Sydney. He also served as a senior lecturer at Macquarie University in Sydney.
He has published numerous peer-reviewed articles in journals at the very top of his field, including Nature Photonics, Nature Physics, and Optica, and has presented invited talks at major international conferences and public lectures. He has served as Vice President of ALPhFA (Associated Laboratory for Photonics between France and Australia), an International Associated Laboratory between CNRS (French National Centre for Scientific Research) and five universities in Australia, among many other service activities in the profession. More about Hudson can be found at THIS LINK.
"I am delighted to have Drs. Blanco-Redondo and Hudson join us," says Hagan. "In addition to their teaching duties, I look forward to what their students will accomplish under their guidance."
Note: A list of faculty opportunities available at CREOL can be found at THIS LINK.