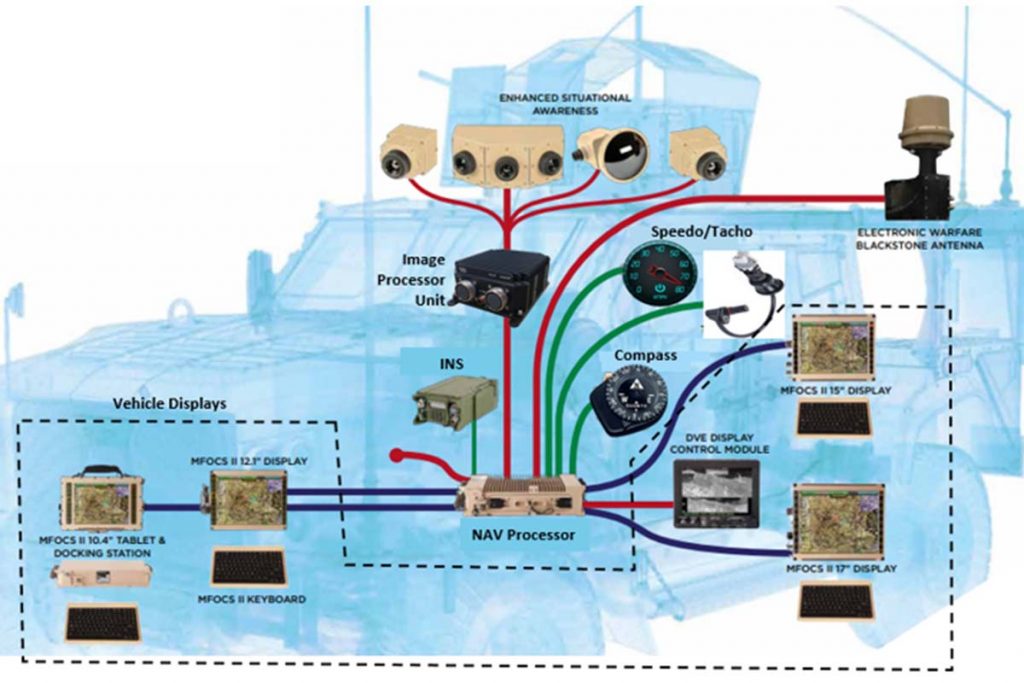 The Army Research Lab has awarded the University of Central Florida a $4.5 million grant to develop a smart, computer vision-based navigation system for when GPS is unavailable or jammed.
The system will be like a cyber co-pilot that supports navigation of ground vehicles by using artificial intelligence and machine learning to assess computer imaging of terrain captured by the vehicle and by unmanned aerial vehicles (UAVs). It will help drivers determine where they are and how to get to where they are going in complex terrain.
"For the Army, this is all about navigating in GPS-denied environments wherein adversaries can jam or spoof GPS signals, and it's also about supporting ground vehicles with off-board sensors on UAVs that can provide additional perspectives for awareness and threat detection in complex, typically urban, scenarios," says Kyle Renshaw, the project's principal investigator and an assistant professor in UCF's College of Optics and Photonics, also known as CREOL.
The system will use geospatial databases to identify landmarks for correlation to imagery and will track object movements through video to estimate motion.
Renshaw says although positioning by triangulation and relative motion are not new concepts, the researchers are combining them using artificial intelligence to do this precisely and autonomously.
UCF faculty working on the project also include Mubarak Shah, a UCF Trustee Chair Professor of Computer Science and director of UCF's Center for Research in Computer Vision; Abhijit  Mahalanobis, an associate professor with UCF's Department of Computer Science and Center for Research in Computer Vision; and Robert Crabbs, a senior research scientist with UCF's College of Optics and Photonics.
UCF's Center for Research in Computer Vision is one of the top-ranked computer vision programs in the country and, along with Carnegie Mellon University, is one of only two institutions in the nation to offer a computer vision master's degree program.
"Researchers at CREOL are experts in sensors and optics and data collection and integration, and CRCV is a world leader in computer vision and machine learning," Shah says. "CRCV researchers will develop algorithms to automatically analyze the data collected by the CREOL team to extract relevant features from mission imagery in order to match with geo-tagged reference imagery for GPS denied combat navigation."
Shah has been working on geo-spatial localization for about two decades and says this is a great time to push the scientific boundaries since performance of new deep learning inspired computer vision methods has significantly improved.
"And with availability of large amount of data and great computing power, we can make a big difference," he says.
The team will also partner with researchers Ron Driggers from the University of Arizona, who has extensive experience in infrared imaging systems, and Eddie Jacobs with the University of Memphis, who brings expertise in unmanned aerial vehicles.
"I'm looking forward to working with ARL and the world-class team we've pulled together to address some real, significant and immediate problems for the Army," Renshaw says of the award. "Of course, the technologies and solutions we're working on can also translate to a wide range of problems from autonomous driving to border security to disaster response."
The project award is for four years, with two years awarded now and a two-year option for Army Research Labs to continue funding the work.
Renshaw received his doctorate in applied physics from the University of Michigan. Prior to UCF, he worked in the defense industry developing missile warning, laser countermeasure and infrared search & track systems. He joined CREOL, the College of Optics and Photonics, in 2015 as an assistant professor where he directs the Thin-Film Optoelectronics Lab. The lab conducts multidisciplinary research in materials, components and technologies for imaging systems spanning the visible to infrared spectrum. Current projects include metasurface optics, coherent fiber bundle relays, optical beam steering, UAV remote sensing and object detection from moving sensors.
Shah is the founding director of Center for Research in Computer Vision and is a fellow of IEEE, AAAS, IAPR and SPIE. He was recently inducted into the National Academy of Inventors, and Academy of Science, Engineering and Medicine of Florida. In 2006, he was awarded a Pegasus Professor award, the highest faculty award at UCF. He has published extensively on topics related to geo-spatial localization, UAV video analysis, visual surveillance, tracking, human activity and action recognition, object detection and categorization, geo registration, and visual crowd analysis. He is a recipient of ACM SIGMM Technical Achievement award; ACM SIGMM Test of Time Honorable Mention Award; International Conference on Pattern Recognition (ICPR) 2020 Best Scientific Paper Award, and NGA Best Research Poster award at NARP Symposium.
Driggers is a professor of optical engineering at the University of Arizona. He received his doctorate in electrical engineering from the University of Memphis. He previously worked in the Department of Defense at the U.S. Army Night Vision Laboratory, Army Research Laboratory, and Naval Research Laboratory.
Mahalanobis joined UCF from Lockheed Martin, where he was a Senior Fellow of the Lockheed Martin Corporation. He received his doctoral and master's degrees from Carnegie Mellon University and his bachelor of science degree with honors at the University of California, Santa Barbara. His primary research areas are in systems for information processing, computational sensing and imaging, and video/image processing for information exploitation and ATR. He has more than 170 journal and conference publications in this area. He also holds four patents, co-authored a book on pattern recognition, contributed several book chapters, and edited special issues of several journals.
Crabbs' career as an aerospace professional started as a researcher at The Johns Hopkins University, then as a designer, engineer, manager, and owner of several small companies actively engaged in the development of instrumentation for space and terrestrial research programs.  Initially, he joined UCF as associate director of the Florida Space Institute. Now he directs the Wave Propagation Research Group operating at the Townes Institute Science and Technology Experimentation Facility at the NASA Kennedy Space Center, within the Center for Directed Energy under the UCF Office of Research.
Jacobs is a professor in the department of Electrical and Computer Engineering at the University of Memphis. He has 19 years of experience in industry and government laboratories and 15 years of experience in academia. His expertise is in modeling and simulating the performance of imaging sensors. His research interests are in developing novel imaging systems, using simulation as a tool in imaging system design, and in the development of laboratory and field data collection systems to verify simulations. He holds a BSEE and MSEE from the University of Arkansas and a DSc in electro-physics from the George Washington University.