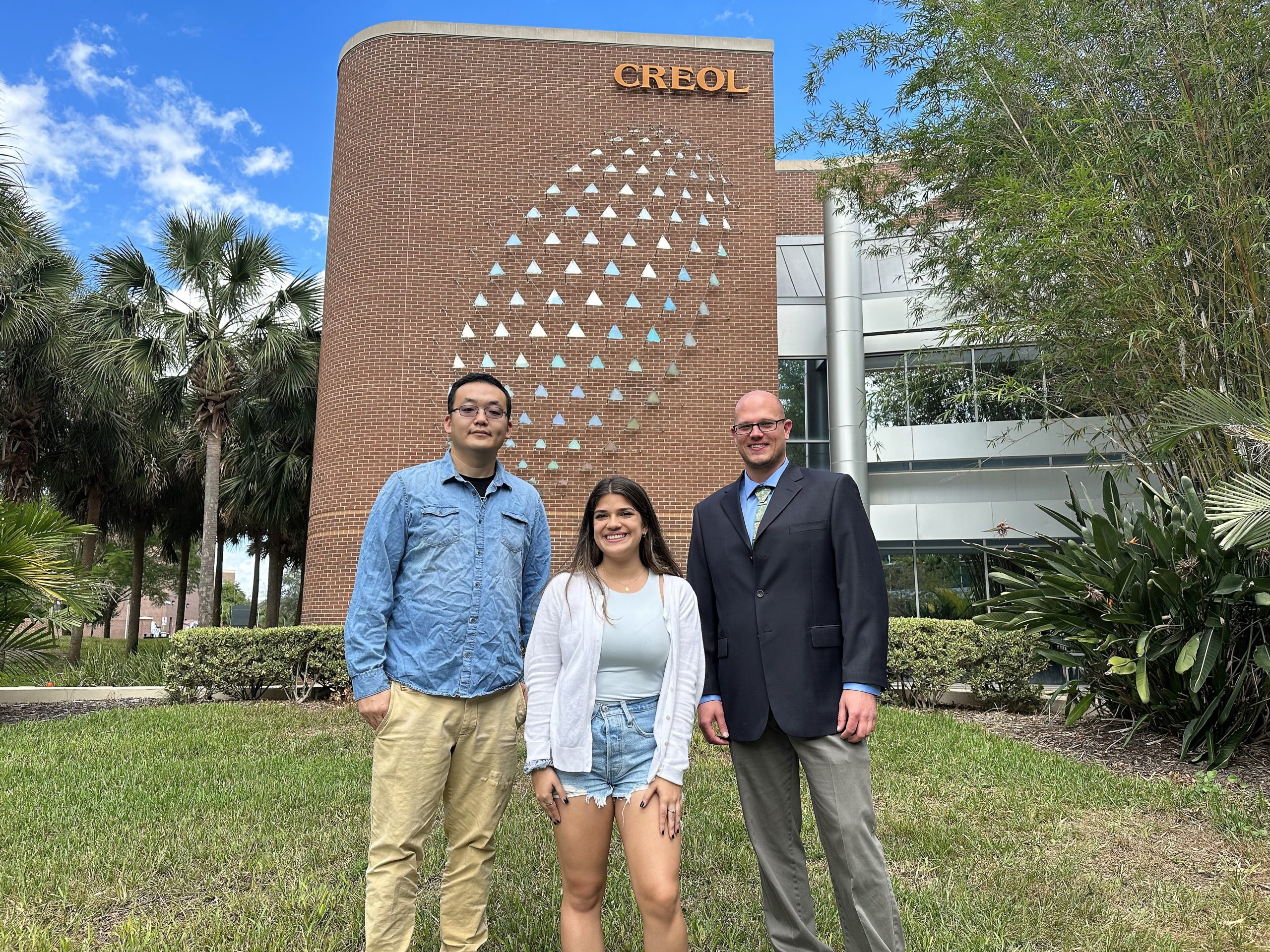 In 2022, SPIE awarded $293,000 in education scholarships to 78 outstanding SPIE student members, based on their potential contribution to optics and photonics, or a related discipline. Three University of Central Florida optics and photonics students received scholarships.
CREOL, The College of Optics and Photonics doctoral student Matthew Cooper received the largest and most prestigious SPIE scholarship, the D.J. Lovell Scholarship, named for the radiometry and infrared optics consultant, author of Optical Anecdotes, and SPIE Fellow who died in 1984.
Cooper enlisted in the Air Force when he was 17 years old and is currently an officer in the U.S. Space Force. He received two master's degrees in Electrical Engineering and Aeronautical Engineering from the Air Force Institute of Technology. He also earned an MBA from the University of South Dakota and his bachelor's in electrical engineering from the Pennsylvania State University. Cooper hopes to teach and continue his research at the Air Force Institute of Technology when he completes his Ph.D. later this year.
His research involves the design and fabrication of novel large-mode-area fibers for high-power fiber lasers, with a focus on optical power delivery spanning different regimes between visible to the infra-red via hollow core fiber. He has authored and co-authored 18 journal and conference publications and is supervised by professors Rodrigo Amezcua Correa and Axel Schülzgen.
"I am humbled by this scholarship and hope to highlight how fun and interesting optics and photonics can be," says Cooper. "My 7-year-old self would be amazed that a job like this exists – that people get paid to tinker in order to innovate."
SPIE Education Scholarship winner, Adriana Guevara, is a fourth-year undergraduate student pursuing her bachelor's degree in photonic science and engineering. She entered UCF ready to earn a degree in computer engineering, but switched her major after a presentation at orientation about UCF's optics and photonics program. Her decision was validated after a successful internship at Radiance Technologies where she worked with Palletized-High Energy Lasers (P-HEL). She also gained experience working with optical filters at Everix and has accepted a summer position with Lockheed Martin Space in Colorado.
"I like analytical stuff and having the right answers," says Guevara. "I was drawn to the vast research and career opportunities photonics can provide, and am extremely grateful to receive this scholarship."
After graduating in 2024, Guevara hopes to focus on laser development and possibly graduate school for optics.
En-Lin Hsiang is a member of professor Shin-Tson Wu's research group focusing on advanced display technologies. Dr. Wu's work is the reason Hsiang came to CREOL after receiving his bachelor's and master's degrees from National Chiao Tung University in Taiwan.
"The world is big and I want to have a good look," says Hsiang. "Unrestricted by space and time, the display can bring the world to your eyes. That is why display research is fascinating to me."
Hsiang is pursuing his Ph.D. focusing his research on display light engines for AR/VR systems, including LCOS, LCD, OLED, μLED, LBS, and DMD. He has published 23 journal papers and nine conference proceedings.
He received a SPIE Education Scholarship. "I would like to thank my advisor for his guidance and my lab mates for their support throughout my Ph.D. period," he says.
SPIE, the international society for optics and photonics, brings engineers, scientists, students, and business professionals together to advance light-based science and technology. The Society, founded in 1955, connects and engages with its global constituency through industry-leading conferences and exhibitions; publications of conference proceedings, books, and journals in the SPIE Digital Library; and career-building opportunities.
Students interested in applying for a 2023 SPIE scholarship can do so HERE. The deadline is Wednesday, February 15, 2023.