Thin-Film Optoelectronics (TFO) Lab
The lab conducts research and development on materials, components and systems utilizing thin-film technologies for applications in optics and electronics. The lab is focused on three thin-film technologies: 1) organic and hybrid organic/inorganic semiconductors for sensing and imaging, 2) optical metasurfaces for compact, wide-angle imaging, and 3) integrated photonics for LIDAR imaging and free-space optical communications. In addition to these core technologies, the group has embarked on several new applied imaging projects including: a) camera systems for python hunting in the Everglades, b) drone-based remote sensing, c) coherent fiber bundles for wide-angle infrared imaging, and d) multispectral thermal imaging.  
We are looking for motivated graduate students to join our team! Students must meet government requirements on a project-dependent basis prior to joining the team. Contact Prof. Renshaw for more information.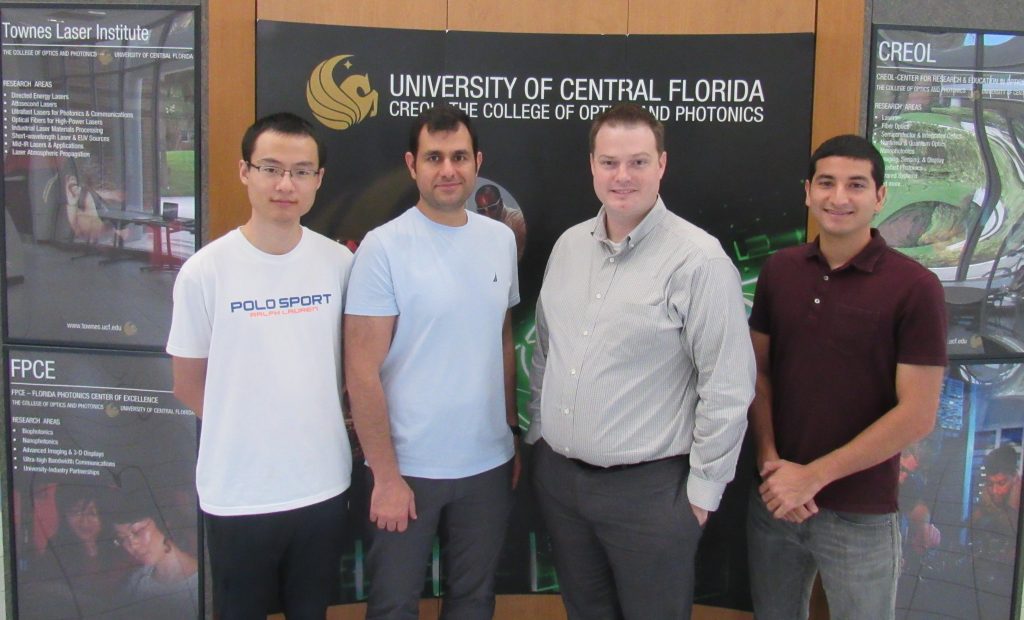 We develop photodetectors based on organic molecules and polymers. These materials have strong optical absorption that is controllable across the visible and near-infrared spectrum via the molecular composition of the photodetector. The strong absorption allows fabrication of devices with thin active regions (typically < 100 nanometers). The thin-film nature of these devices enables fabrication of flexible and/or large-area photodetectors for a variety of sensing and imaging applications.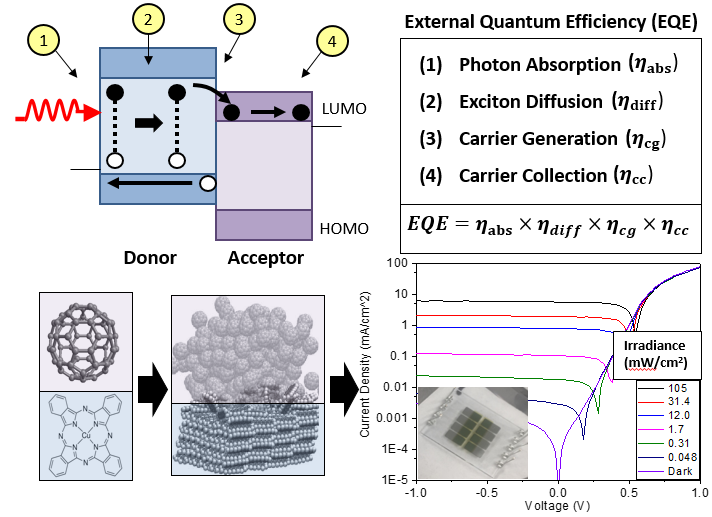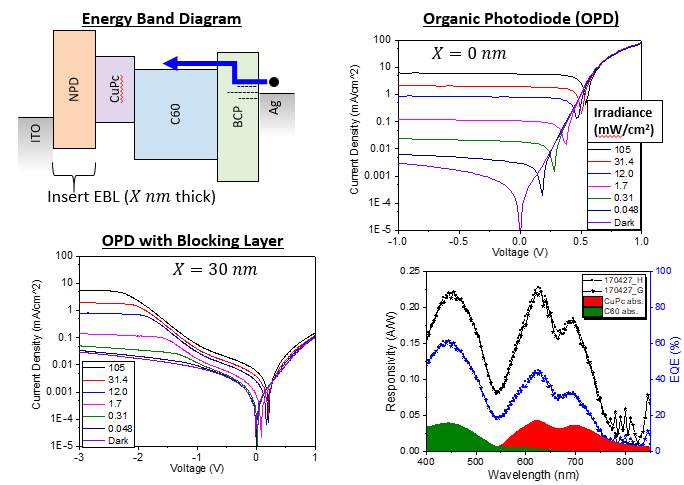 Hemispherical Focal Plane Arrays
A simple lens focuses to a curved surface due to Petzval field curvature. However, modern imagers rely on flat image sensors that evolved from wafer-based semiconductor fabrication technology. Consequently, imager design focuses on flattening this field to improve image quality – resulting in stringent trade-offs between lens complexity, field-of-view (FOV) and image quality. This project is developing non-planar focal plane arrays similar to image sensors found in biological imaging systems such as the human eye. These sensor arrays could lead to the next generation of imaging systems and enable dramatic improvements in compact, wide FOV imagers.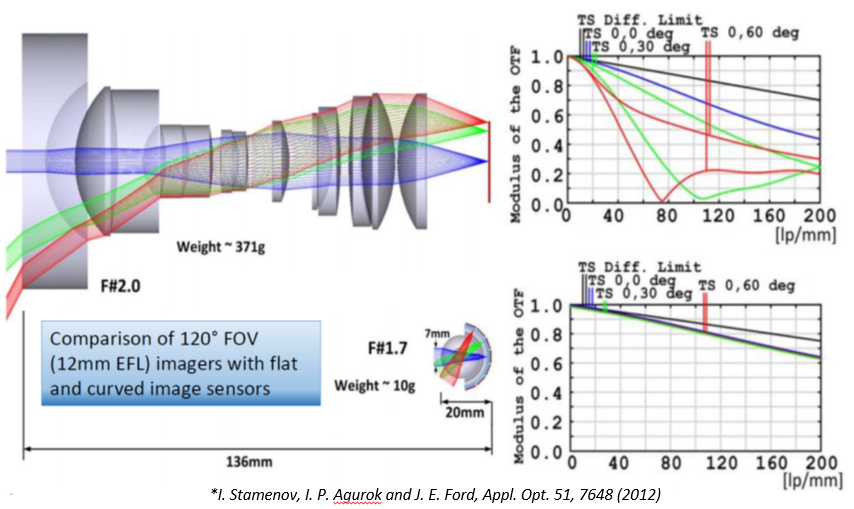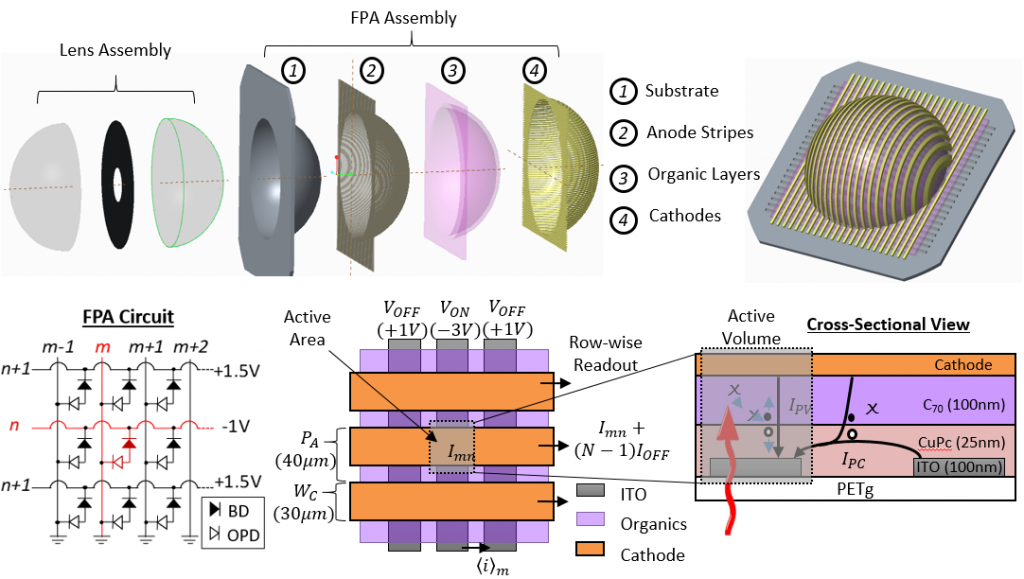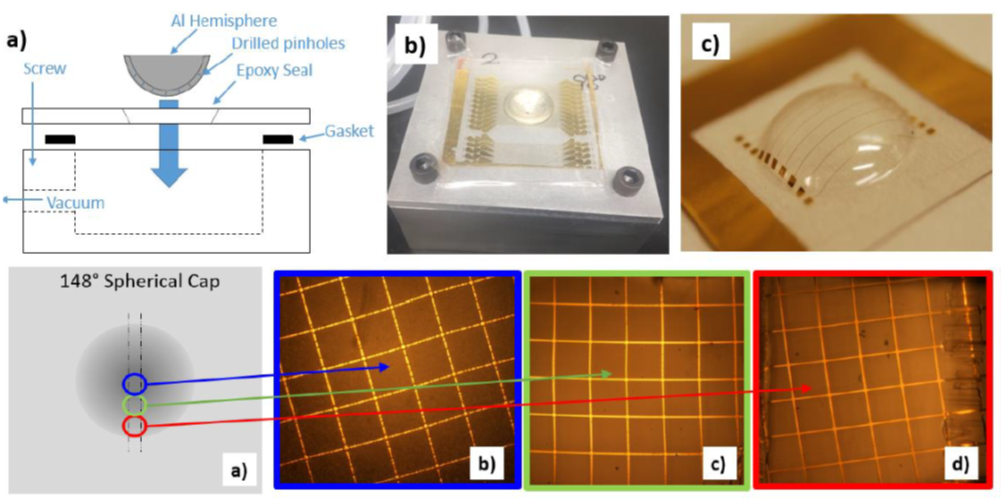 Compact Wide-Angle Imagers
We are developing analytical tools to evaluate and predict the performance of emerging optical technologies for compact imagers. We have introduced an imaging efficiency metric that allows us to compare systems against fundamental theoretical limits of information density attainable in imaging systems. Initial effort is investigating the impact of curved image sensors and metasurface lenses.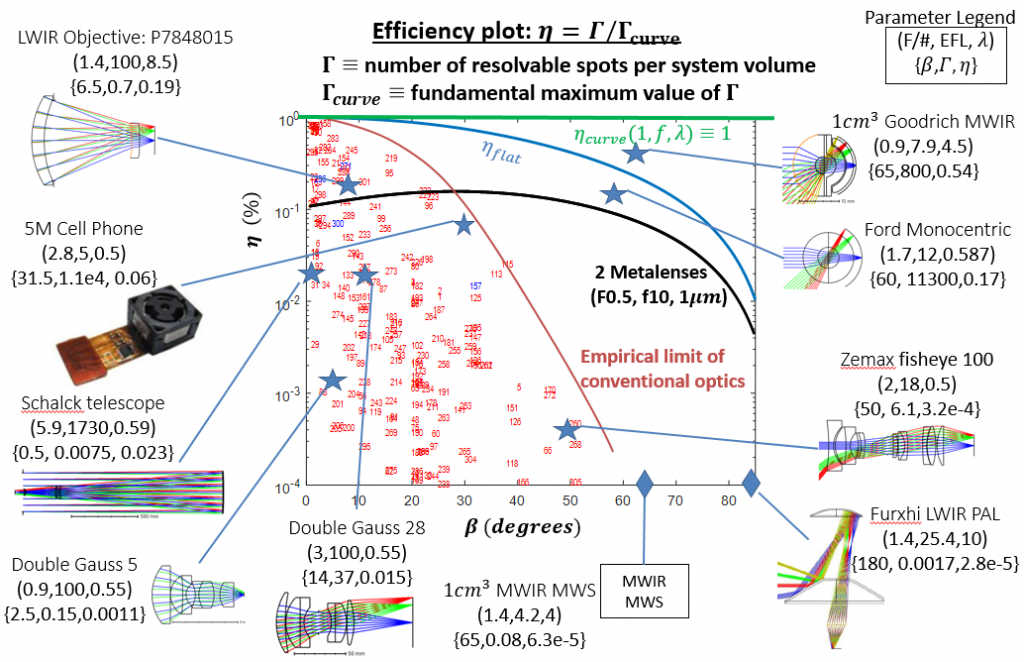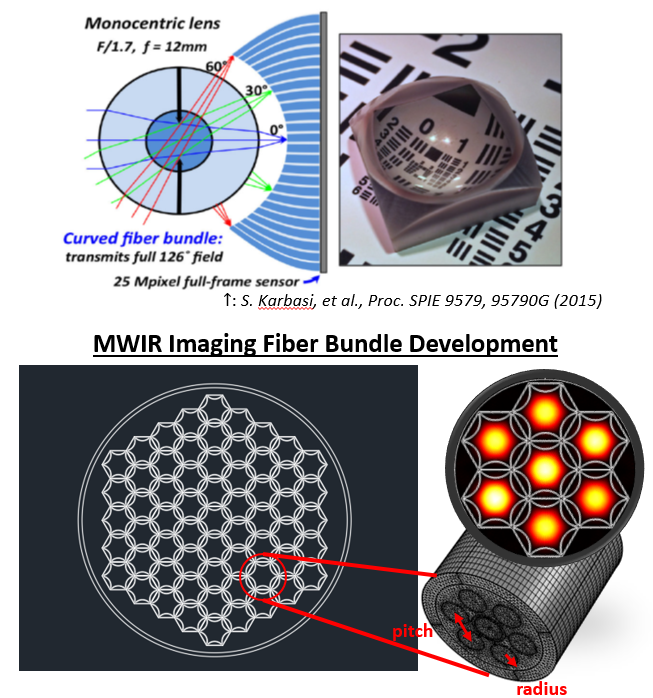 Imaging-Based Beam Steering
We have introduced a new beam-steering mechanism that utilizes the passive mapping between spatial and angular coordinates provided by an imaging optic. This can provide high-resolution beam steering over a wide field-of-regard with no moving parts in a compact and low-power system; overcoming many of the problems inherent in conventional beam-steering approaches using moving mirrors, phased-arrays or spatial light modulators.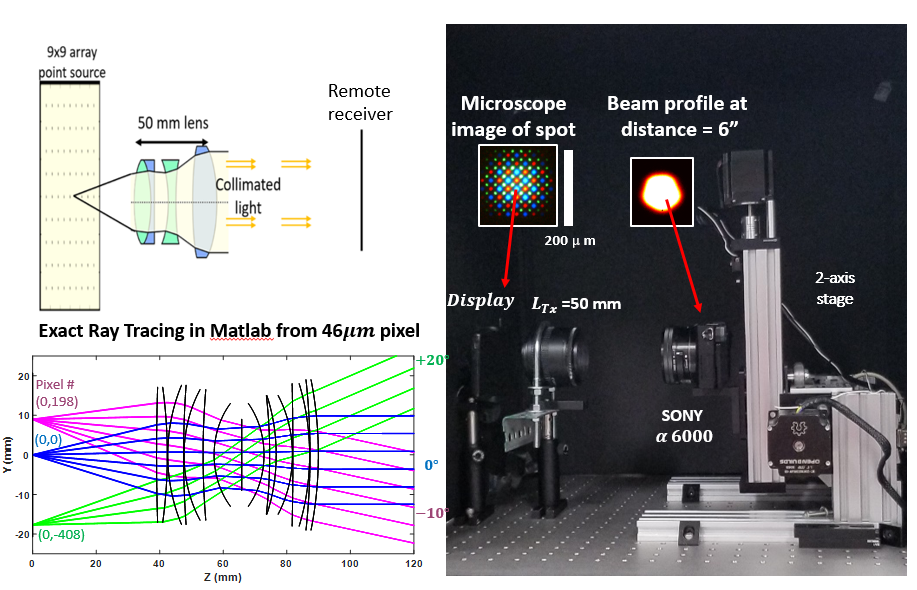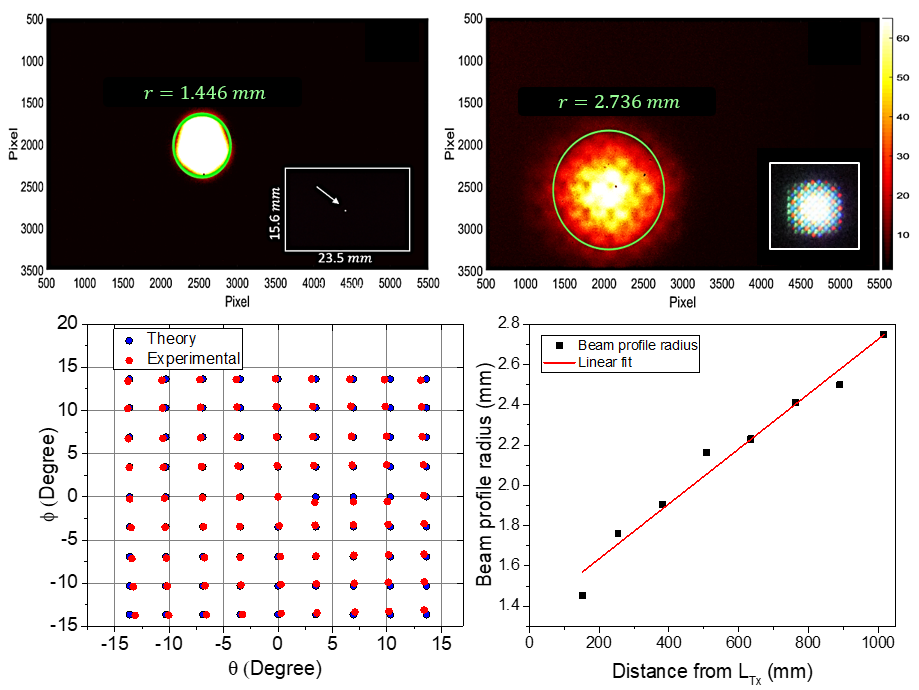 C.Y. Zhang, J.X. Li, A. Belianinov, Z. Ma, C.K. Renshaw and R.M. Gelfand "Nanoaperture fabrication in ultra-smooth single-grain gold films with helium ion beam lithography" Nanotechnology, 31(46), A. 465302 (2020)
Z. Ma, K. H. Shih, C. Lopez-Zelaya and C. K. Renshaw "Volumetric Imaging Efficiency: the Fundamental Limit to Compactness of Imaging Systems" Opt. Exp. (2020)
M. Teng, A. Honardoost, Y. Alahmadi, S. S. Polkoo, K. Kojima, H. Wen, C.K. Renshaw , P. LiKamWa, G. F. Li, S. Fathpour, R. Safian and L. M. Zhuang "Miniaturized Silicon Photonics Devices for Integrated Optical Signal Processors" IEEE/OSA Journal of Lightwave Technology, vol. 38, pp. 6-17, January 2020 (INVITED). (2020)
Z. Ma and C.K. Renshaw "Organic photodetectors with frustrated charge transport for small-pitch image sensors" Journal of Applied Physics, 126(4), 045501 (2019)
S.S. Polkoo and C.K. Renshaw "Imaging-based beam steering for free-space optical communication" Applied Optics, 58(13), pp. D12-D21 (2019)
C. K. Renshaw and S. R. Forrest "Excited State and Charge Dynamics of Hybrid Organic/Inorganic Junctions. I. Theory" Phys. Rev. B 90, 045302 (2014) (2014)
A. Panda, C. K. Renshaw, A. Oskooi, K. Lee, and S. R. Forrest "Excited State and Charge Dynamics of Hybrid Organic/Inorganic Junctions. II. Experiment" Phys. Rev. B 90, 045303 (2014) (2014)
B. E. Lassiter, C. K. Renshaw and S. R. Forrest "Understanding Tandem Organic Photovoltaic Cell Performance" J. Apply. Phys. 113, 214505 (2013) (2013)
C. K. Renshaw, J. D. Zimmerman, B. E. Lassiter, and S. R. Forrest "Photoconductivity in Organic Photovoltaics" Phys. Rev. B 86, 085324 (2012) (2012)
J. D. Zimmerman, X. Xiao, C. K. Renshaw, S. Wang, V. V. Diev, M. E. Thompson, and S. R. Forrest "Independent Control of Bulk and Interfacial Morphologies of Small Molecular Weight Organic Heterojunction Solar Cells" Nano Lett. 12, 4366 (2012) (2012)
C. K. Renshaw, C. Schlenker, M. E. Thompson, and S. R. Forrest "Reciprocal Carrier Collection in Organic Photovoltaics" Phys. Rev. B 84, 045315 (2011) (2011)
N. Li, K. Lee, C. K. Renshaw, X. Xiao, and S. R. Forrest "Improved Power Conversion Efficiency of InP Solar Cells Using Organic Window Layers" Appl. Phys. Lett. 98, 053504 (2011) (2011)
K. Lee, K. Shiu, J. D. Zimmerman, C. K. Renshaw, and S. R. Forrest "Multiple Growths of Epitaxial Lift-off Solar Cells from a Single InP Substrate" Appl. Phys. Lett. 97, 101107 (2010) (2010)
B. E. Lassiter, R. R. Lunt, C. K. Renshaw, and S. R. Forrest "Structural Templating of Multiple Polycrystalline Layers in Organic Photovoltaic Cells" Optics Express 18, No. 103, A444 (2010) (2010)
G. Wei, S. Wang, K. Renshaw, M. E. Thompson, and S. R. Forrest "Solution-Processed Squaraine Bulk Heterojunction Photovoltaic Cells" ACS Nano 4, No. 4, 1927 (2010) (2010)
C. K. Renshaw, X. Xu, and S. R. Forrest "A Monolithically Integrated Organic Photodetector and Thin Film Transistor" Org. Elect. 11, 175 (2010) (2010)
M. S. Arnold, J. D. Zimmerman, C. K. Renshaw, X. Xu, R. R. Lunt, C. M. Austin, and S. R. Forrest "Broad Spectral Response Using Carbon Nanotube/Organic Semiconductor/C60 Photodetectors" Nano Lett. 9, No. 9, 3354 (2009) (2009)
S. Ghosh, A. R. Bhagwat, C. K. Renshaw, S. Goh, and A. L. Gaeta "Low-Light-Level Optical Interactions with Rubidium Vapor in a Photonic Band-Gap Fiber" Phys. Rev. Lett. 97, 023603 (2006) (2006)