Thin-Film Optoelectronics (TFO) Lab
The lab conducts research and development on materials, devices and systems utilizing thin-film technologies for applications in optics and electronics.The lab is presently focused on three thin-film technologies: 1) organic and hybrid organic/inorganic semiconductors for sensing, imaging and display applications, 2) optical metasurfaces for compact, wide-angle imaging, and 3) integrated photonics for LIDAR and free-space optical communications.
We are looking for motivated graduate students to join our team! Students must meet government requirements on a project-dependent basis prior to joining the team. Contact Prof. Renshaw for more information.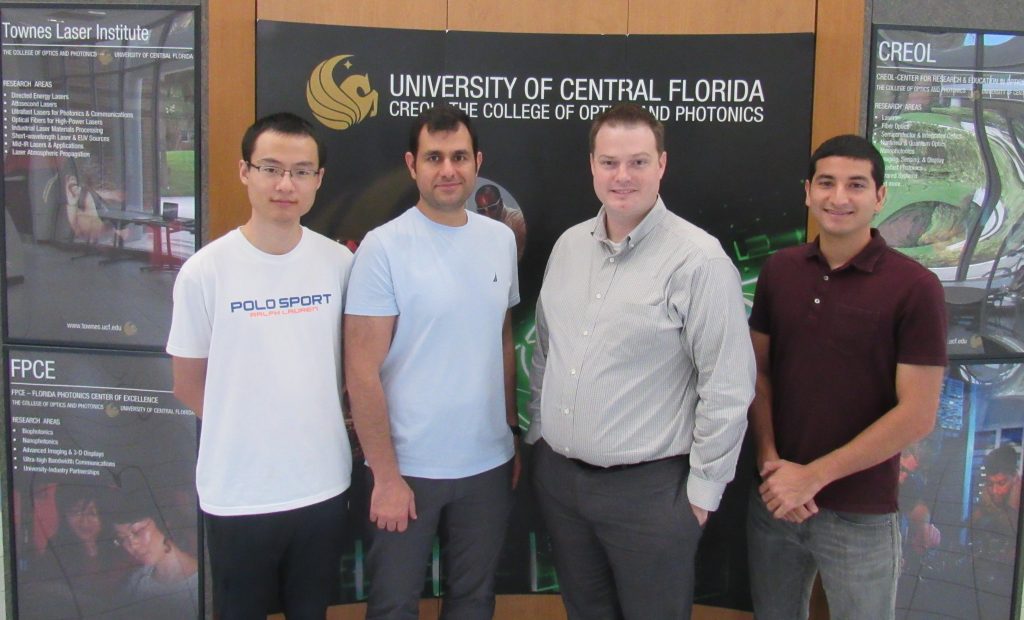 Cesar receives Most Outstanding Summer Researcher from AFRL. 
Zhao's JAP paper receives editor's pick and is featured in Scilights.
Sajad wins best poster at the IEEE Summer Topical meeting for "Photonic Integrated Circuit Outcoupling (PICO) Arrays for Free-Space Optical Communications."
Sajad is selected for a summer internship at IMEC-Florida. 
Sajad wins best poster at the Industrial Affiliates Symposium for "Camera/Inverse-Camera System for Free-Space Optical Communications."
Cesar is accepted for a summer internship at AFRL. 
Sajad presents an Inverse-Camera System for Optical Wireless Communications at Frontiers in Optics 
Dr. Renshaw presents a switchable organic photodiode at OSA Imaging Congress 
Dr. Renshaw awarded AFRL Summer Faculty Fellowship 
Zhao presents a poster on curved sensor fabrication at SPIE Defense and Commercial Sensing 
Angstrom deposition tool is installed; first films grown and OPD/OLED devices fabricated
TFO Lab is completed! 
We develop photodetectors based on organic molecules and polymers. These materials have strong optical absorption that is controllable across the visible and near-infrared spectrum via the molecular composition of the photodetector. The strong absorption allows fabrication of devices with thin active regions (typically < 100 nanometers). The thin-film nature of these devices enables fabrication of flexible and/or large-area photodetectors for a variety of sensing and imaging applications.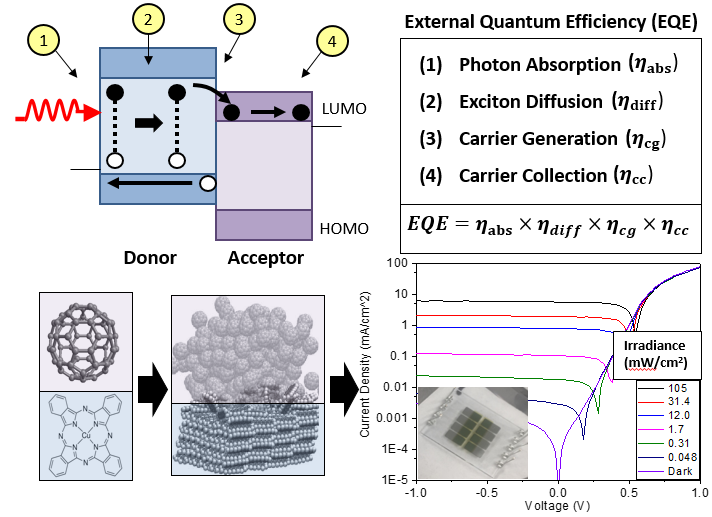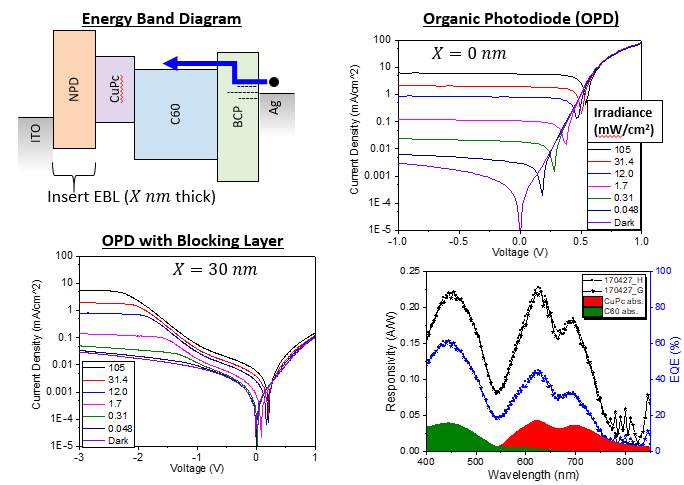 Hemispherical Focal Plane Arrays
A simple lens focuses to a curved surface due to Petzval field curvature. However, modern imagers rely on flat image sensors that evolved from wafer-based semiconductor fabrication technology. Consequently, imager design focuses on flattening this field to improve image quality – resulting in stringent trade-offs between lens complexity, field-of-view (FOV) and image quality. This project is developing non-planar focal plane arrays similar to image sensors found in biological imaging systems such as the human eye. These sensor arrays could lead to the next generation of imaging systems and enable dramatic improvements in compact, wide FOV imagers.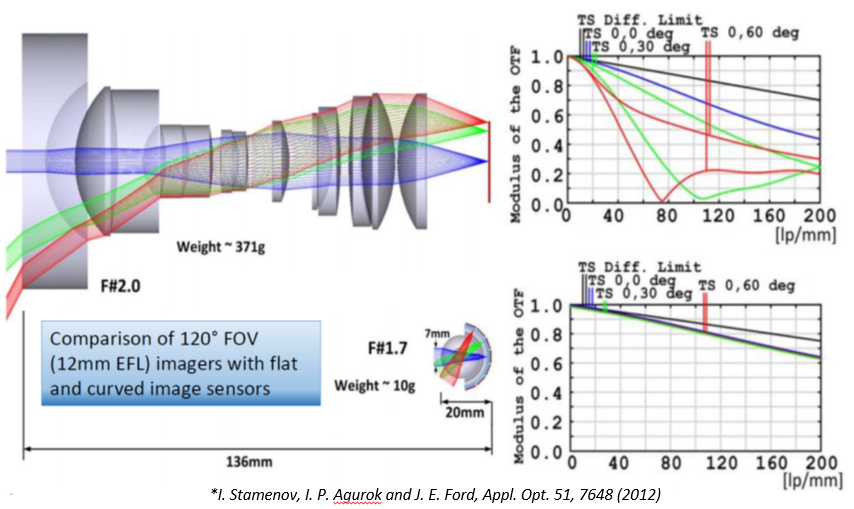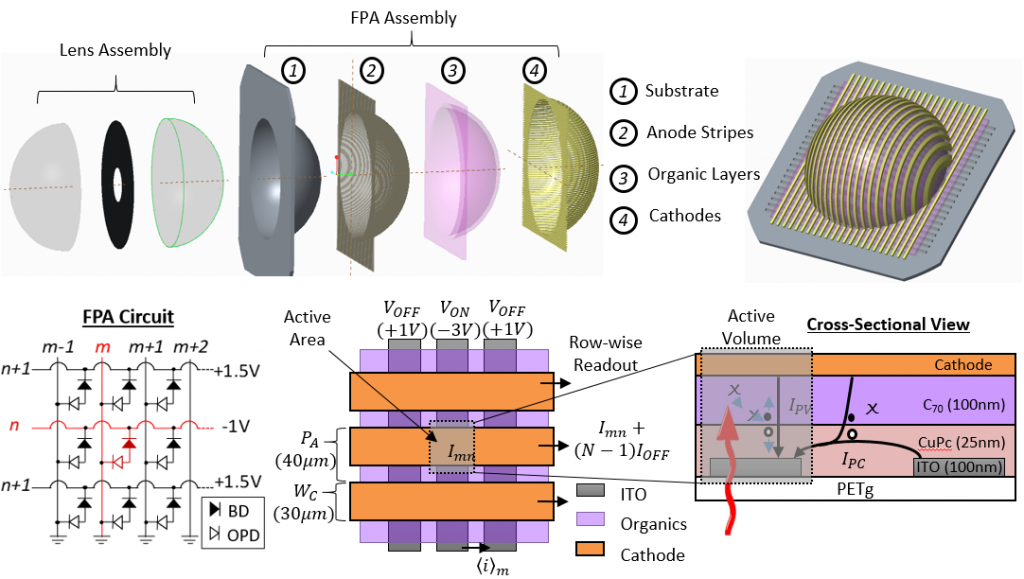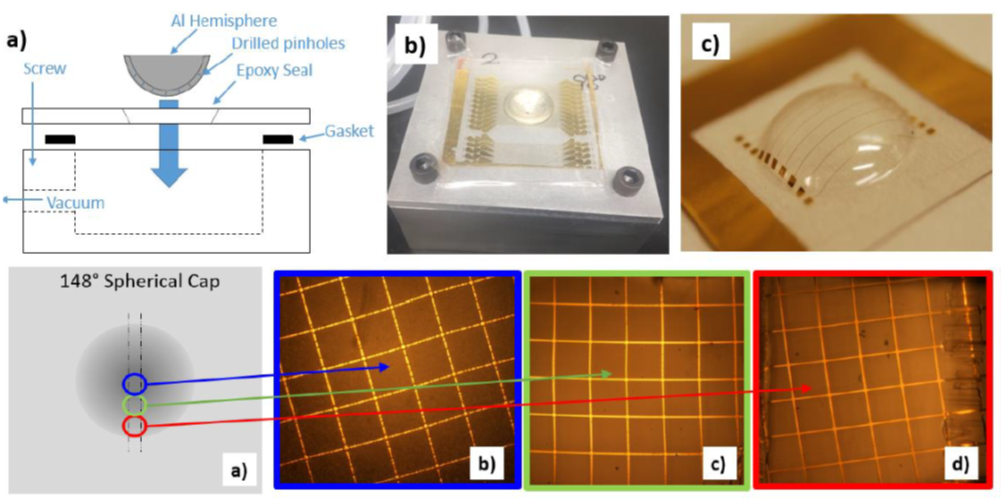 Compact Wide-Angle Imagers
We are developing analytical tools to evaluate and predict the performance of emerging optical technologies for compact imagers. We have introduced an imaging efficiency metric that allows us to compare systems against fundamental theoretical limits of information density attainable in imaging systems. Initial effort is investigating the impact of curved image sensors and metasurface lenses.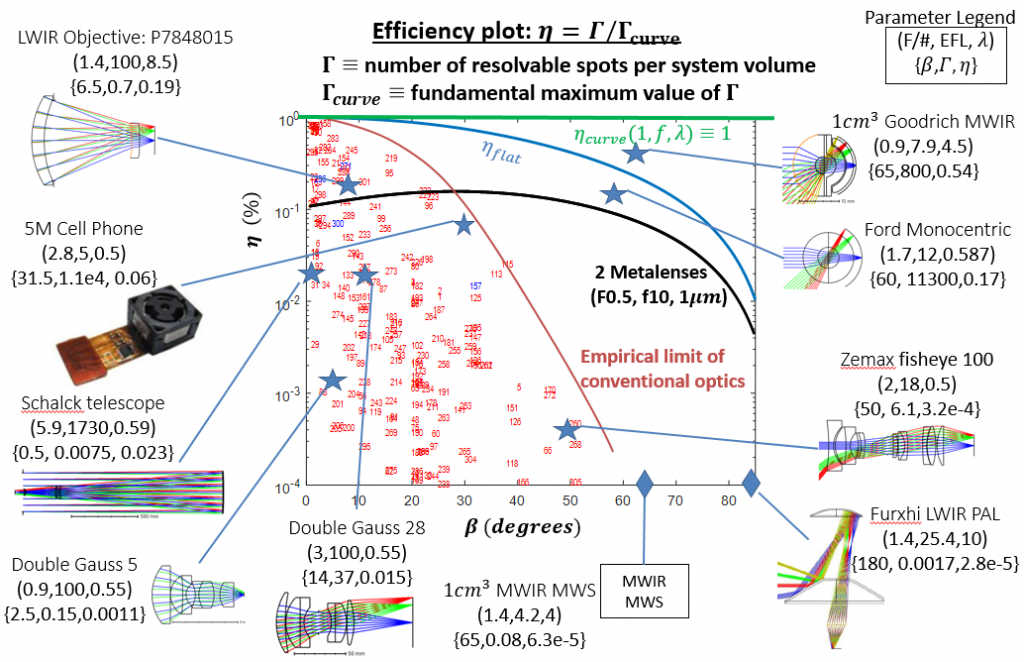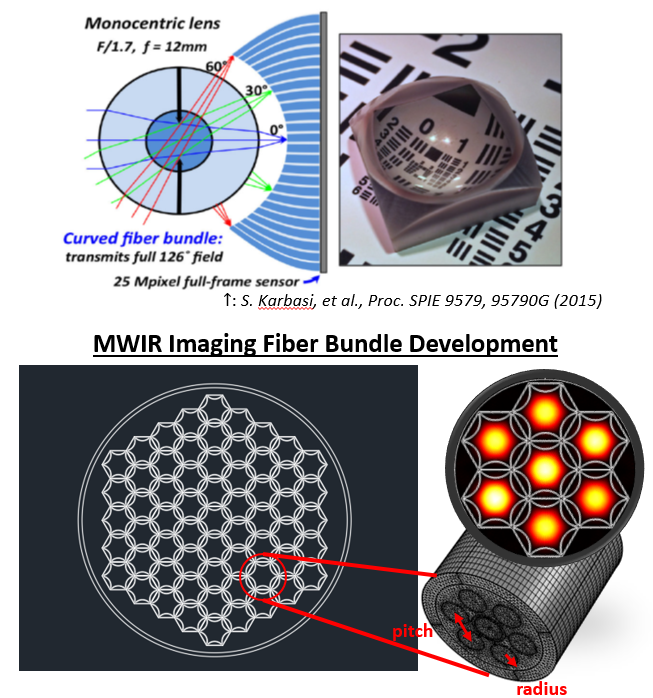 Imaging-Based Beam Steering
We have introduced a new beam-steering mechanism that utilizes the passive mapping between spatial and angular coordinates provided by an imaging optic. This can provide high-resolution beam steering over a wide field-of-regard with no moving parts in a compact and low-power system; overcoming many of the problems inherent in conventional beam-steering approaches using moving mirrors, phased-arrays or spatial light modulators.