The Thin-Film Optoelectronics Lab is now the Knight Vision Lab to better reflect our research focus in imaging technologies spanning materials and components to systems and applications. 
The lab is focused on three materials and component technologies: 1) semiconductor technologies for sensing and imaging, 2) optical metasurfaces for compact, wide-angle imaging, and 3) integrated photonics for LIDAR imaging and free-space optical communications. In addition to these core technologies, the group has embarked on several new applied imaging projects including: a) camera systems for python hunting in the Everglades, b) drone-based remote sensing, c) coherent fiber bundles for wide-angle infrared imaging, and d) multispectral thermal imaging.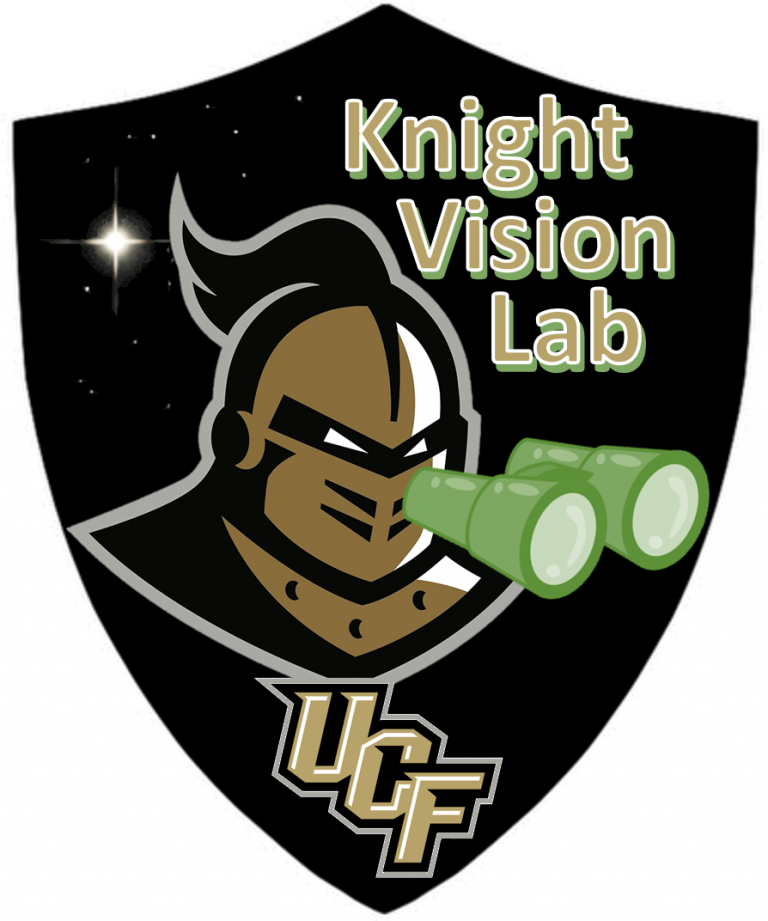 Volumetric Imaging Efficiency (VIE)
Major investments are pouring into a wide variety of optical materials and lens technologies such as metamaterials, free-form surfaces, printed or molded optical glass and plastics, gradient index materials and manufacturing curved image sensors. These all seek to achieve the same objective – make optical systems (and usually imaging systems) perform better, cost less or become smaller. But which technology stands to provide the best improvement or the best bang for your research buck? We developed the VIE metric in an attempt to answer that question from a technology-agnostic perspective. The VIE is a measure of the resolution density of an imaging optic compared against the most dense system possible based on fundamental limits of diffraction. 
We collected >2800 lens designs and showed an empirical limit to the VIE of conventional imaging systems – using bulk optics imaging onto flat sensors. The limiting VIE decreases exponentially with FOV. We show examples of bulk lenses imaging onto curved sensors and metasurface lenses that surpass conventional systems by ~100x. These technologies particularly excel in wide angle applications where conventional lenses grow to become very bulky.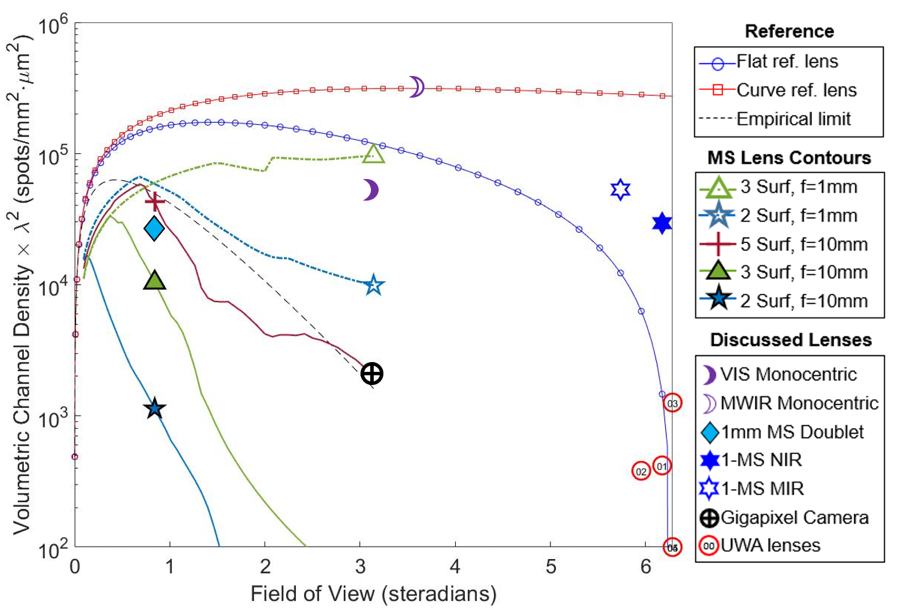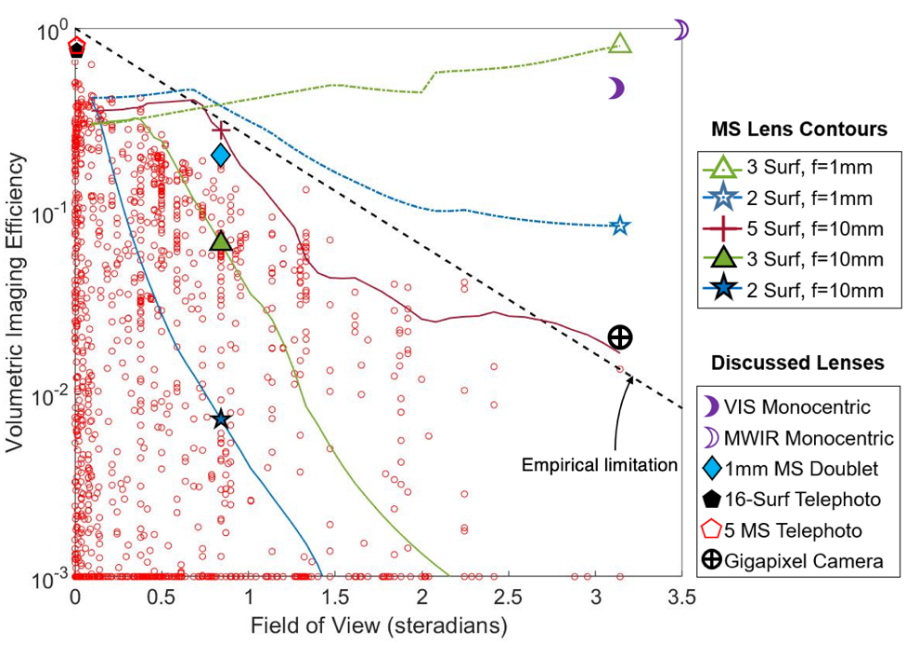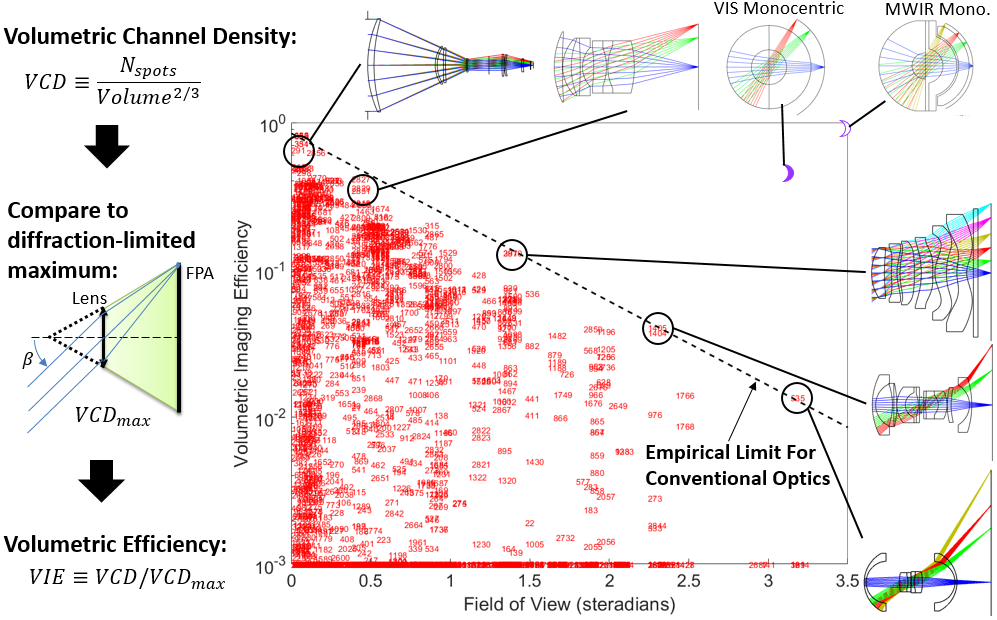 Organic Photodetectors for
Curved Image Sensors
A simple lens focuses to a curved surface due to Petzval field curvature. However, modern imagers rely on flat image sensors that evolved from wafer-based semiconductor fabrication technology. Consequently, imager design focuses on flattening this field to improve image quality – resulting in stringent trade-offs between lens complexity, field-of-view (FOV) and image quality. This project is developing non-planar focal plane arrays similar to image sensors found in biological imaging systems such as the human eye. These sensor arrays could lead to the next generation of imaging systems and enable dramatic improvements in compact, wide FOV imagers.
We are developing photodetectors based on organic molecules and polymers. These materials have strong optical absorption that is controllable across the visible and near-infrared spectrum via the molecular composition of the photodetector. The strong absorption allows fabrication of devices with thin active regions (typically < 100 nanometers) while their soft, Van der Waals bonding allows deposition onto any type of substrate including flexible and formable plastics.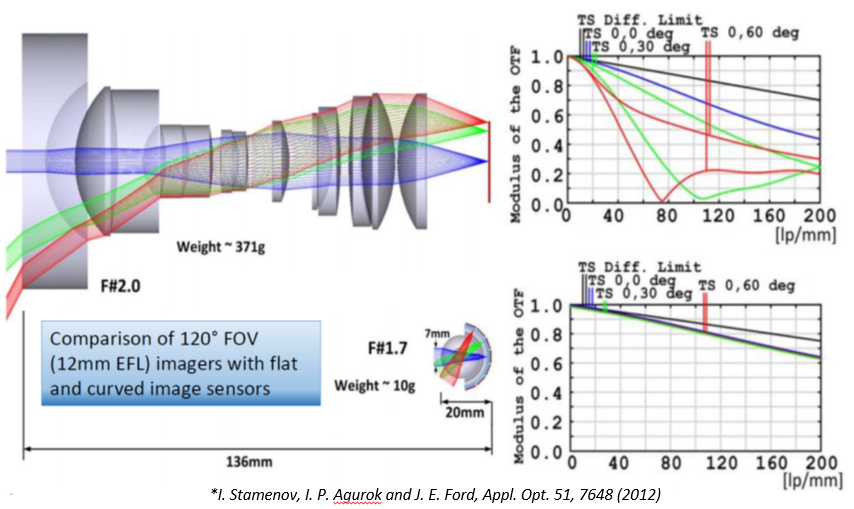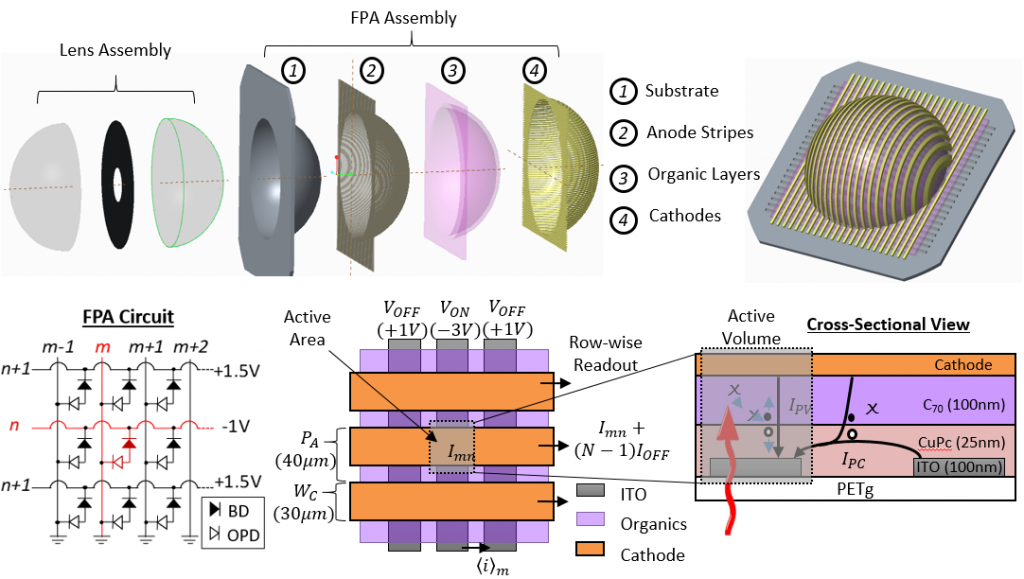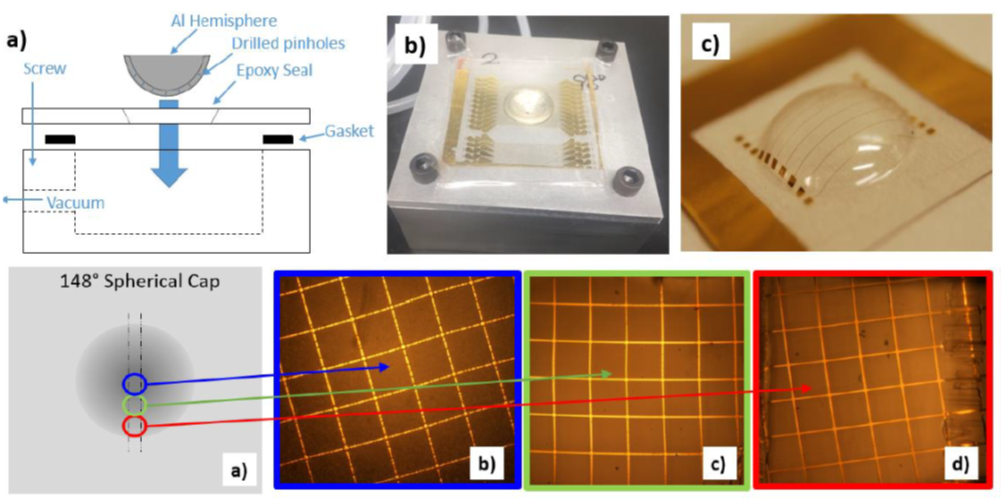 Curved Image Relays based on
MWIR/LWIR coherent fiber bundles
The DARPA SCENICC program demonstrated viability of curved image relays to enable compact, wide-angle imaging systems in the visible. We are collaborating with experts in chalcogenide glass growth and fiber drawing (all at CREOL) to manufacture high-resolution and large format coherent fiber bundles for thermal imagers in the midwave (MWIR) and longwave (LWIR) infrared bands. We are fabricating these novel optics to relay curved images to flat sensors to enable a new breed of compact, wide-angle and high-resolution thermal imagers.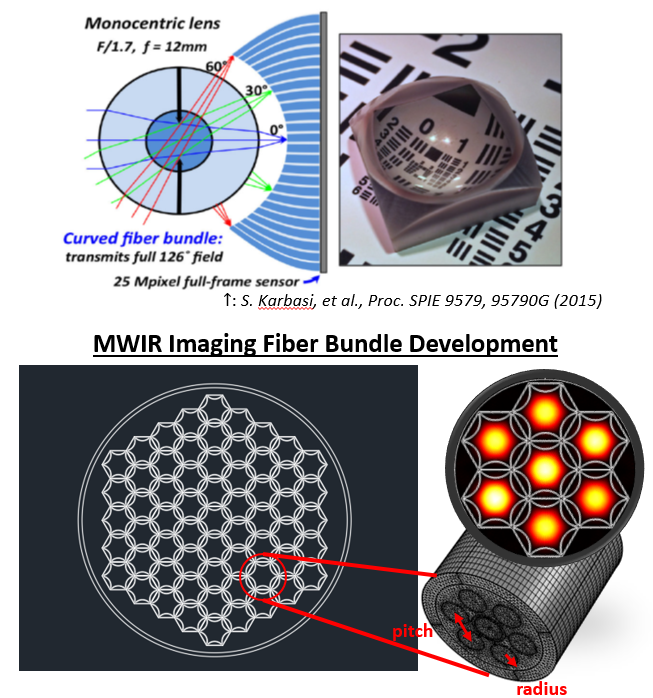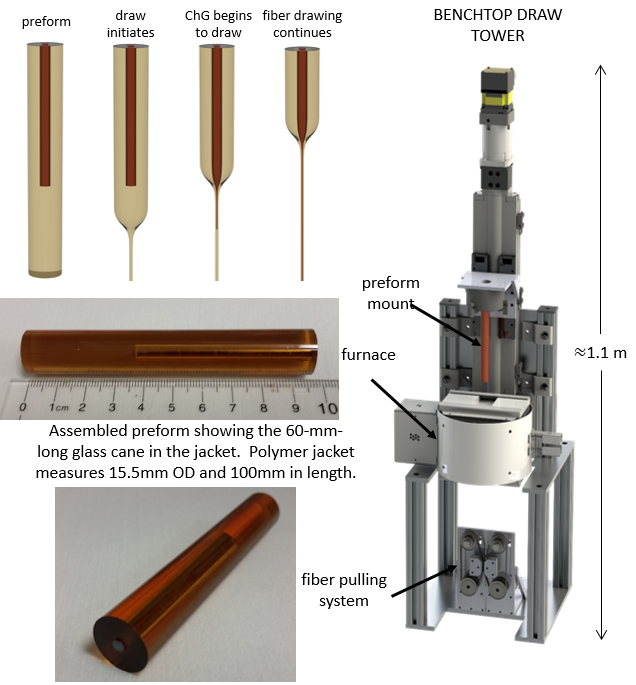 Burmese pythons are invading the everglades and destroying the natural ecosystem. We are working with the Florida Fish and Wildlife Commission (FFWC) to develop a near-infrared python detection system comprised of a multi-camera array and automated detection algorithms. The system is in development and we are actively working with the FFWC and contracted hunters to test the system effectiveness.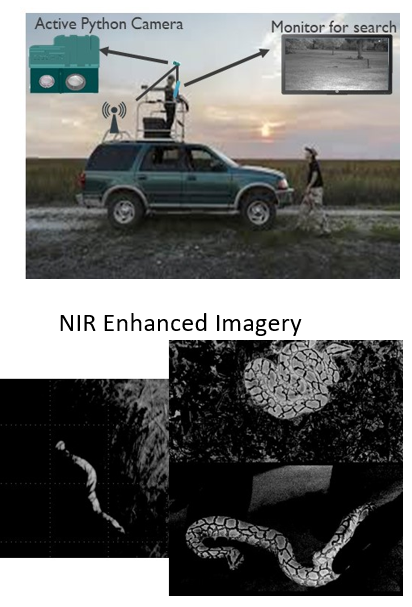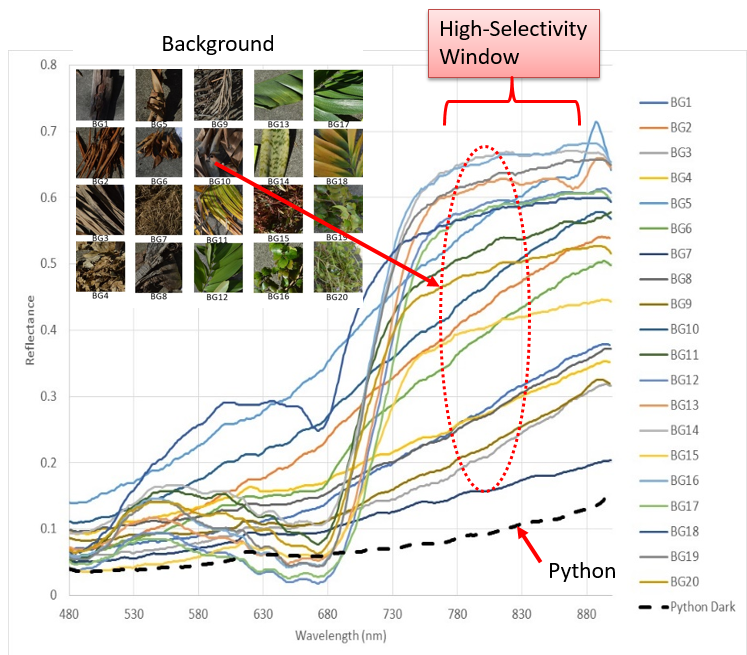 Metasurface lenses use sub-wavelength, nanostructured scattering features to to control light in new ways. For example, flat lenses mimic the phase delay of a conventional, bulk lens by engineering the effective index to give the same profile across a planar surface. Flat singlets, doublets and achromats have already been fabricated and demonstrated in laboratory camera systems. Challenges abound related to scattering efficiency, dispersive characteristics and scaling challenges. We are working to address MS scaling by combining bulk lenses for primary power and MS lenses for aberration correction. This work includes modelling and simulation, optical design, nanofabrication in the cleanroom and optical test and characterization. Multiscale modelling and simulation spans full-wave FDTD simulations in Lumerical to geometric ray tracing in Zemax with aid from inverse design optimization for design down to individual meta-atom placements across the surface.
Imaging-Based Beam Steering
We have introduced a new beam-steering mechanism that utilizes the passive mapping between spatial and angular coordinates provided by an imaging optic. This can provide high-resolution beam steering over a wide field-of-regard with no moving parts in a compact and low-power system; overcoming many of the problems inherent in conventional beam-steering approaches using moving mirrors, phased-arrays or spatial light modulators.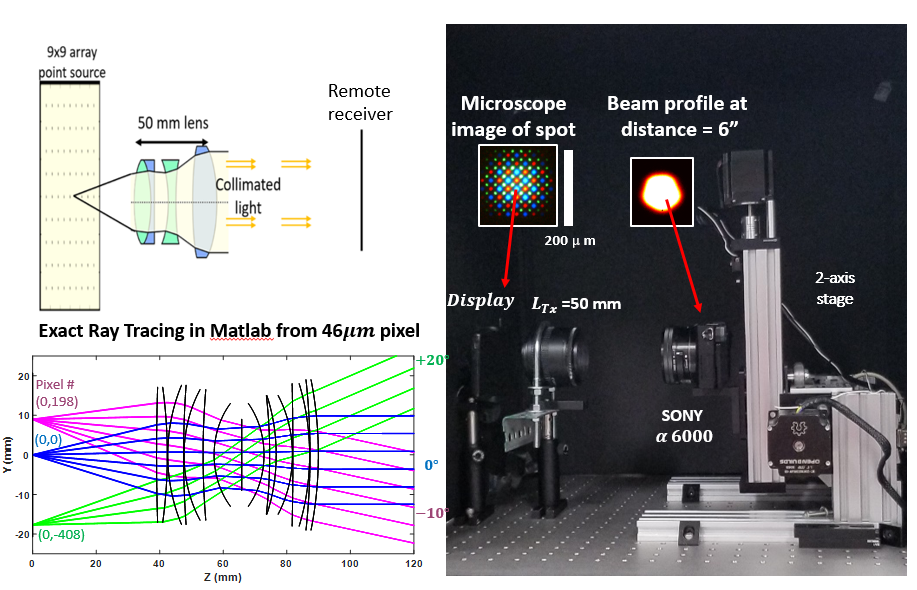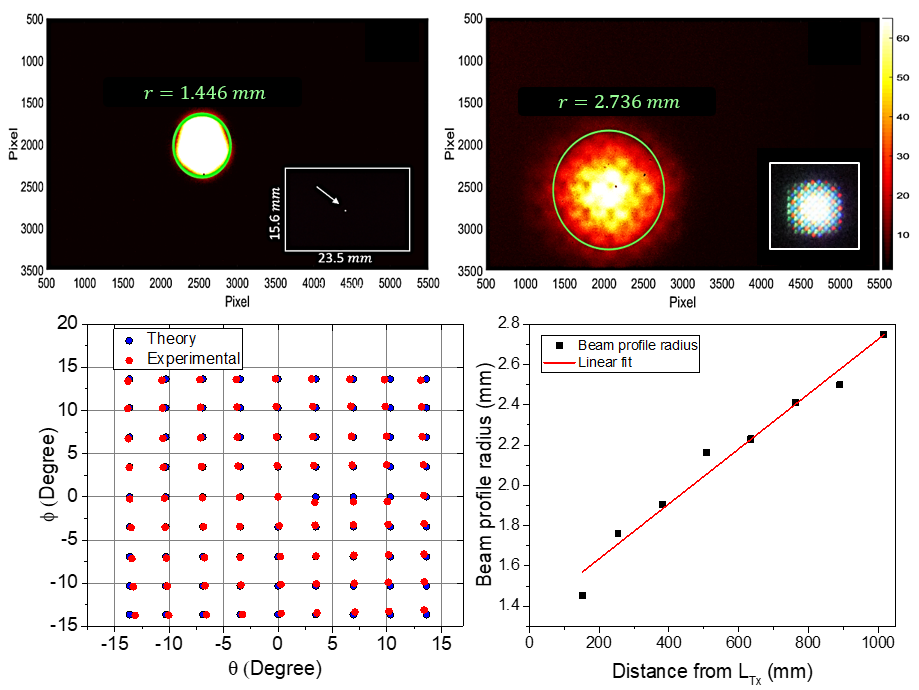 Dr. Kyle Renshaw directs the Knight Vision Lab. He is an assistant professor of optics with joint appointments in the department of physics and electrical and computer engineering.
Undergraduate Researchers
MS
Jennifer Kassel, Optics M.S., Fall 2017
Donald Hoff, Optics M.S., Unknown


BS
Cesar Lopez-Zelaya, Photonic Science & Engineering B.S., Spring 2021