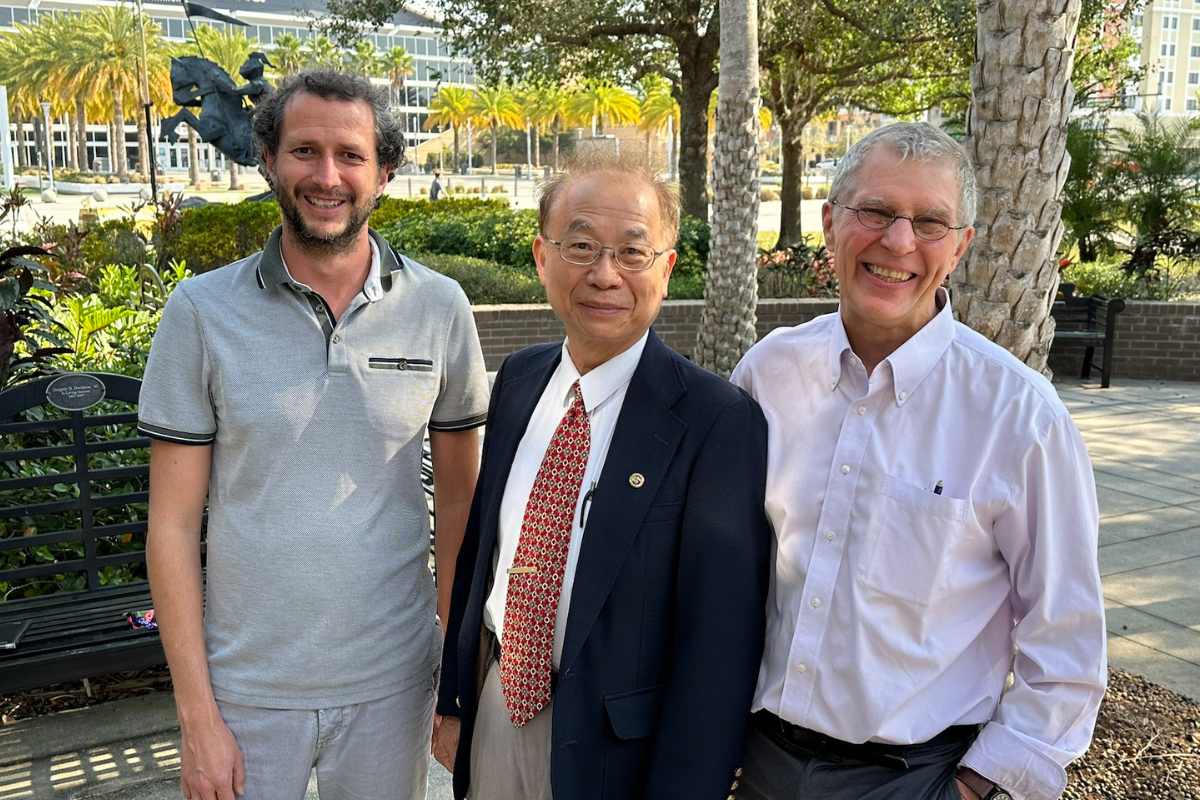 UCF Trustee Chair Professor Shin-Tso Wu received UCF's 2023 Excellence in Research award during the university's Founders' Day Faculty Honors Celebration on April 5. This marks the fourth year in a row that a CREOL professor has won the title. CREOL winners from the past three years are Demetrious Christodoulides (2020), Kathleen Richardson (2021), and Ayman Abouraddy (2022). Wu qualified for the award after being chosen for CREOL's 2023 Excellence in Research award.
Wu is a world-renowned researcher in augmented reality (AR) and virtual reality (VR) technology. His research interests focus on light engines (mini-LEDs, micro-LEDs, and OLEDs), optical systems (lightguide, diffractive optics, and projection optics), and display materials (liquid crystals, quantum dots, and perovskites).
UCF also granted CREOL professor Rodrigo Amezcua Correa a 2023 Research Incentive Award. In 2018, he received his first university-wide award, the UCF Reach for the Stars award which honors and rewards highly successful research and creative activity accomplished by early-career university professionals.
Amezcua Correa was also chosen as CREOL's 2023 Excellence in Undergraduate Teaching award winner. His microsctructured fibers and devices research group focuses on Advanced optical fiber design and fabrication, photonic crystal fibers, fiber laser development, optical fiber devices and components, optical fiber sensors, nonlinear propagation in optical fibers, optical fiber for biomedical applications.
CREOL's 2023 Excellence in Graduate Teaching award winner is Konstantin Vodopyanov. His work in academia has spanned several countries including Russia, Germany, and England. He has also spent time working in industry in California and New Jersey. His mid-infrared combs research group focuses on nonlinear optics, mid-IR and terahertz-wave generation, ultra broadband frequency combs and their spectroscopic and biomedical applications.
Vodopyanov received a 2023 Defense University Research Instrumentation Program (DURIP) award for his research proposal: stabilization system for ultra-low-noise broadband mid-IR to THz dual frequency comb spectrometer for standoff chemical sensing. His research award will be funded by the Air Force Defense Research Sciences Program (AFOSR)
"These awards are an opportunity to recognize UCF's best of the best faculty," says CREOL dean, David Hagan. "Who will represent CREOL is a difficult decision because so many of our faculty are doing cutting-edge research that will help a wide range of industries including healthcare, defense, entertainment, manufacturing, and space. Optics and photonics are in everything, everywhere."
A complete list of faculty award winners can be found at THIS LINK.