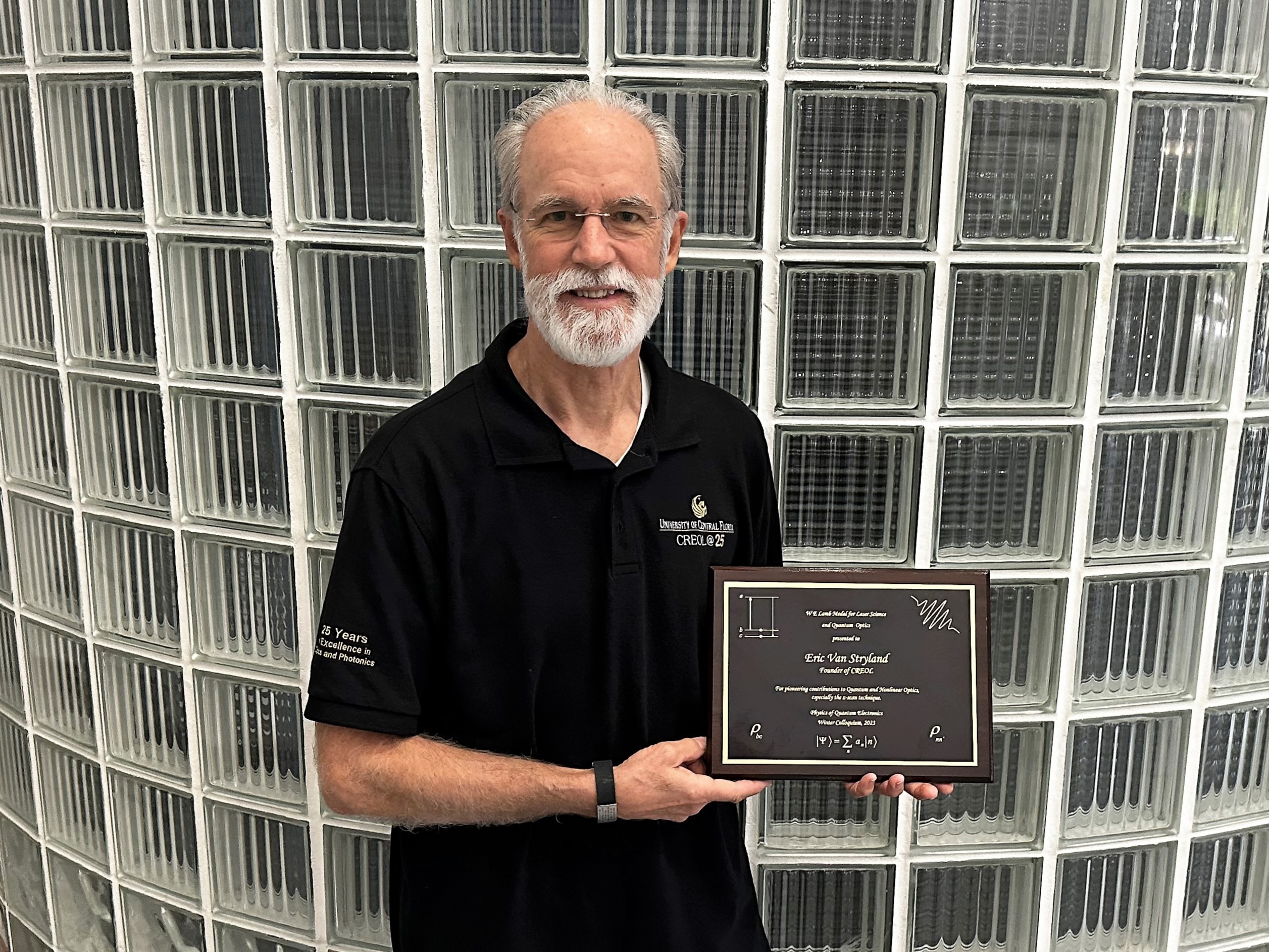 Eric Van Stryland was honored with the 2023 Willis E. Lamb Award for Science and Quantum Optics for his pioneering contributions to quantum and nonlinear optics. Van Stryland is emeritus dean and professor of CREOL, The College of Optics and Photonics at UCF.
"I am extremely honored that the work on nonlinear optics performed by myself, my colleagues and particularly our students and postdocs, has been recognized with this prestigious award," says Van Stryland. "To be honored by my peers is a highlight of my career, but I must stress the importance of all those who contributed so much to this research."
Van Stryland served as the director of UCF's School of Optics and Photonics after its founding director, MJ Soileau, became UCF's vice president for research in 1999. When the school became a college in 2004, Van Stryland served as the founding dean of CREOL, The College of Optics and Photonics. In 2003, he was awarded UCF's highest faculty honor, the Pegasus Professor Award.
Van Stryland retired as dean in 2009 but remained a faculty member and was named a UCF Trustee Chair in 2012.  He continues to serve as a faculty member and works with the nonlinear optics research group within CREOL.
Since 1998, the Lamb award has been presented annually at the Physics for Quantum Electronics (PQE) Winter Colloquium in Snowbird, Utah. The award is named after Willis E. Lamb, Jr. who received the 1955 Nobel Prize in physics for his experimental work on the fine structure of the hydrogen atom and the discovery of a phenomenon called the Lamb shift. Previous notable Lamb Award recipients include Nobel Prize laureates Roy Glauber and Gerard Mourou.
This was the 53rd PQE Colloquium which attracts the world's experts in laser physics, quantum physics, and many other physics-related research areas.