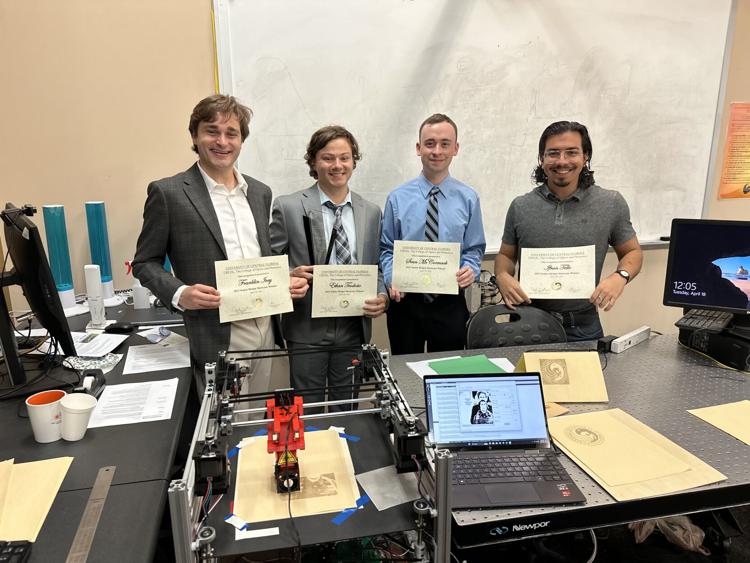 Vice President and Chief Operating Officer at Beam Co. Anna Tabirian said students shined when presenting their senior design projects.
Alejandro Lopez-Zelaya, junior photonic science and engineering major, said "it just shows the quality of students that we have here in this building and the quality of education that we are receiving."
Lopez-Zelaya is the Secretary of the IEEE, the Institute of Electrical and Electronics Engineers Photonics Society, and said he helped organize the Spring 2023 Senior Design Showcase Competition that took place on Tuesday, April 18 from 9 a.m. to 12 p.m. on the second floor of the CREOL, The College of Optics and Photonics, building. He said nine groups of seniors completed projects as a graduation requirement for their degrees. After their project's completion, the seniors showcased their work to three industry judges to compete for first, second and third-place recognition.
Lopez-Zelaya said showcasing their projects in this competition was an incentive for seniors to want to perform beyond their graduation requirements. He said the senior design project has been mandatory for graduation throughout the duration of the photonic science engineering program's existence. Lopez-Zelaya also said the requirement extends into the engineering department's curriculum as well. 
A look at some of the projects (these summaries were required and written by each group as a part of their project submission):
A few of the projects present at the competition were a laser engraver, a pet feeder, and a light-up drum. Each group had to provide a written summary of their project. 
According to the summary of the group, the Distance-Monitored Inkless Laser Engraver project uses a 405 nanometer laser to etch into the desired materials like paper and wood. It is an alternative to a regular printer because it doesn't require consumable products like ink, according to the summary. 
The Pawsitive Pet Feeder group project summary said it is a product that automatically feeds pets. It identifies the different pets by Pet A, Pet B or Pet C and self-opens and self-closes the lid over each bowl of food when a camera detects the correct pet, according to the summary. 
According to the summary of the Light Up Drum System, or L.U.D.S., it is a vibration-sensitive LED strip product that enhances a drumming performance through lighting up every time it is struck when played. 
Project Rationale 
After attending the competition and speaking to the groups, some teams said they had specific motivations as to the inspiration behind their projects. 
From the Pawsitive Pet Feeder project, Isabella Pardo, senior photonic science engineering major, said her roommate has three cats, which she loves, and they motivated her to create this product. 
"One of them has health problems, so he cannot eat the same food as the other two cats," Pardo said. "I was just thinking it was a good idea for my own house and they liked the idea." 
Elijah Peterman, senior electrical engineering major, was in the L.U.D.S. group and said, "I am a guitarist in a band, and I noticed that drummers never get the stage presence they deserve so I wanted to create a project that would allow them to have more, I guess, pizzazz on stage."
The group said the original plan was to bring Peterman's drummer in to play it live but he couldn't demo on the day of the competition. Peterman said if implemented into his band's drum kit, his drummer would, "definitely" use it.
Process and Provisions
Pardo said the first semester of the design project was the planning process. She said the second semester was when the items were purchased, integrated and built. Pardo said the members did not know each other before the start of the project and had to learn communication skills and how to schedule times when everyone was available. 
"One day you just go to a Zoom meeting and the optics people, we go first, we say what type of project we want, and then people in the chat are like, 'oh I'll join,' that's it," Pardo said. "So, we didn't know anything about each other's background or if they were a good student." 
Peterman said his group struggled to adjust to form a good team dynamic and decipher a good system to work with one another. 
"It was a little bit tough from the beginning because we weren't too familiar with each other's leadership styles and communication styles," Peterman said. "Senior design was rough because of that but by the end of it we came together to create a project plan and how we were going to assemble it all." 
Peterman said a design lab in both CREOL and the engineering building is available for seniors to work. He said along with the competition, preparation and assembly, each group had to write a 120-page report, which his group broke up into 30 pages among each of the four members. 
Results
After two semesters' worth of work and eight months of grinding, Ethan Teodosio, senior photonics science engineering major, stood dressed in suit and tie, ready to accept the first-place certificate and trophy alongside his group members.
Teodosio said he was in the Distance-Monitored Inkless Laser Engraver group. He said the laser engraving machine's goal is to etch into paper and not require consumable products like ink and toner to print. 
While standing in the group's competition room, the clicking sound of their engraver project could be heard around the space, and an album cover image of "Bridge over Troubled Water" appeared slowly printed out on the paper beneath its laser as a demonstration of its abilities.
Teodosio said he feels that his hard work has paid off after winning the Senior Design Showcase.
"It's certainly a nice endpoint to what has been two semesters, eight months of hard work and dedication with a lot of late nights and to see a payoff of it is actually really nice," Teodosio said.  
Franklin Ivey, senior computer engineering major and another winning member in the group, said he was ecstatic just to have the project there on competition day. 
"Seeing an image work, even just getting this print was phenomenal," Ivey said. "We spent so much time over the semester and even if it didn't work today, I would be very proud and pleased with the amount of work we put into the project, but the fact that all four of us worked so hard and it works at the end of the day is just amazing." 
Not only did Ivey say he was elated to be present but he said he was proud to have won first place and be recognized. 
Ivey said, "I looked over at Ethan and said, 'Are you kidding me, is this real?'"
The four group members accepted the clear trophy that would be placed in CREOL, he said so that their legacy of the achievement would stand for years to come. 
Teodosio said, "it stays with CREOL and CREOL has been something that's been a part of my life for the past five years, so the fact that we get to leave something behind is a good feeling." 
One of the three judges who contributed to the decision was Anna Tabirian, vice president and chief operating officer at Beam Co.
Tabirian said the projects were judged by the following factors: creative methodology, completeness, and presentation. 
"The team that ended up winning, not only were they creative in their approach, they created the fullest device, and they had a very good presentation," Tabirian said. "I mean you could see a lot of work and all of them in multidiscipline really excelled so that's why we picked them." 
Tabirian said she has been in the industry since graduating from CREOL with a Ph.D. before an undergraduate program was available. She has since worked for 14 years with a military company developing military lasers and target location devices. 
"The development based on the photonics education I got from CREOL basically developed next-generation military equipment, and I appreciated seeing all these full systems developed by the students," Tabirian said.
Benefits 
Tabirian said she was glad to participate in a competition that offered growing opportunities for seniors. 
She said her company would be willing to help sponsor materials for future projects and that promising potential was shown in the students which led her to suggest to some seniors that if their interest allows, they could come to work for Beam Co. 
"To give this kind of opportunity to undergraduates and to have them actually build from the inception of the idea all the way to completion, that I think is a great learning experience for them and allows them to shine which we saw today," Tabirian said.