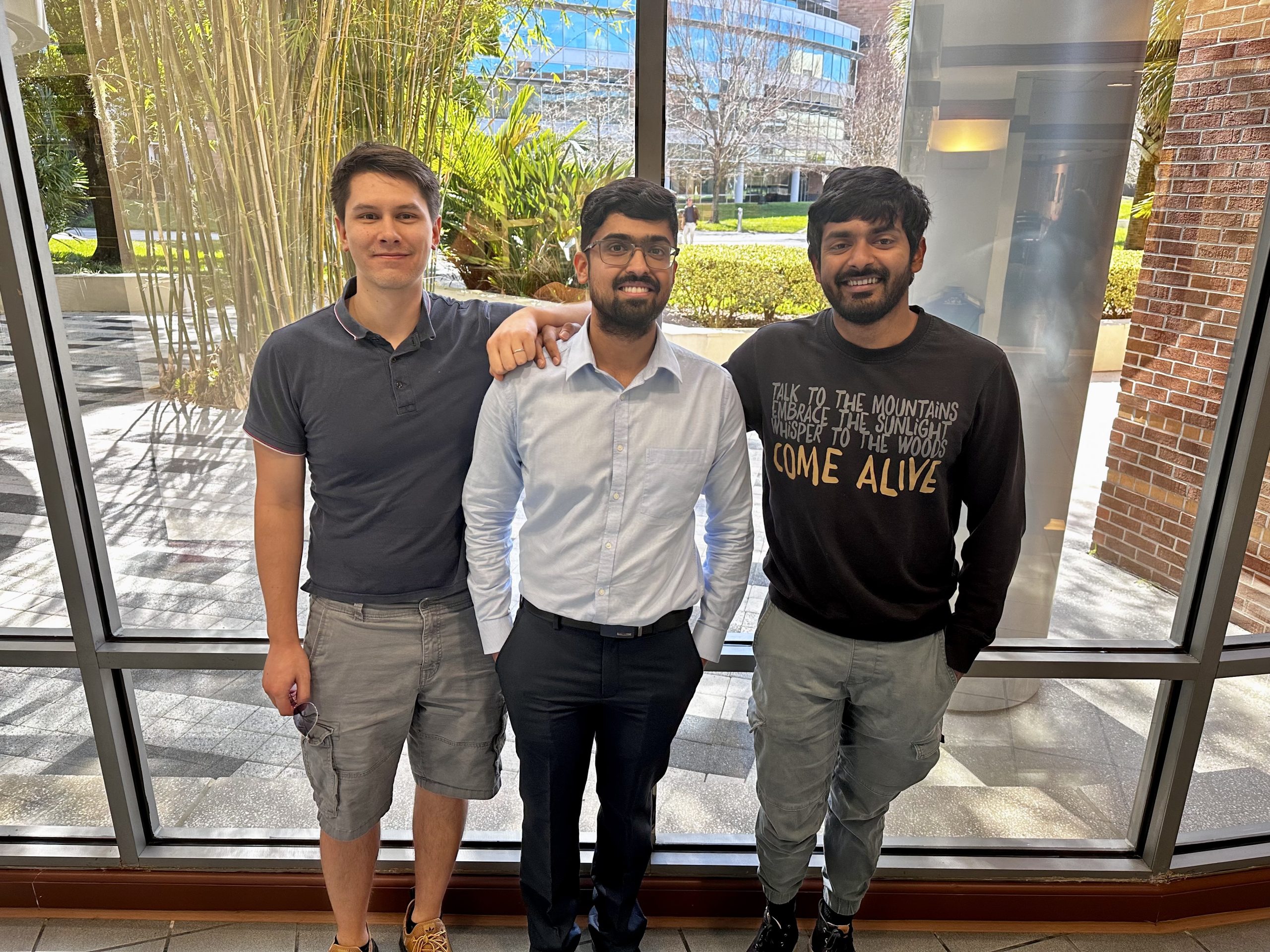 Chinmay Shirpurkar, CREOL's Student of the Year, shared his journey on what led to the award-winning moment.
"It's really cool to get in on this now before photonics becomes the next big thing," Shirpurkar said.
The optics and photonics doctoral candidate won CREOL's 2022-2023 Student of the Year title on Feb. 8 after the college's panel narrowed down three finalists to one.
Dr. Peter Delfyett, professor at CREOL, The College of Optics and Photonics, said he serves as Shirpurkar's advisor. Shirpurkar is a part of the professor's Ultrafast Photonics Group, according to CREOL's website. The winner said he has been working on his research since the start of his doctoral program here at UCF and shared what the award means to him.
"When one of us wins, we all win; if one of us struggles, we all struggle," Delfyett said.
Shirpurkar said he got his bachelor's degree in electrical engineering in India and wasn't familiar with optics before coming to the U.S. and to CREOL. He said his undergraduate professor used to work in optics, and he became interested in the field. He said during his third year of studies, he received a paid scholarship from the government of India that funded an internship at an optics institute in Germany for three months.
"That's when I really got into optics, and I thought, 'This is really cool stuff,'" Shirpurkar said.
Shifting from engineering to photonics, he said after the internship, he wanted to explore the field more, and so he applied to places in the U.S. where photonics was the main focus to find only three main schools. Shirpurkar said he applied to UCF, The University of Arizona and the University of Rochester. He said Florida is a much nicer place, so he decided on UCF after being accepted into both the University of Rochester and UCF.
He said his motivations throughout his work include his parents and adviser Delfyett. He said his parents' occupations aren't in the science field, so they don't understand some of the work but are supportive of the fact that he is doing something different and are proud of his accomplishment of becoming the Student of the Year.
Shirpurkar said he counts on Delfyett for his guidance and support.
"Whenever something is not working out in the lab, or whenever I have some problems with my experiment, I go to him, and he might not always have the correct answer for me on how to solve my problem, but he is a really good motivational factor," Shirpurkar said. "He says, 'Hey, try out these things,' and eventually he gets me on the right path when I'm straying off of it."
Delfyett said Shirpurkar did good work in the Student of the Year competition measured by the faculty committee that reviewed his submissions, but also through being highlighted in a press release.
Delfyett said Shirpurkar is very detailed and focused. To work in this field, researchers have to dig deep and be thorough, he said. Delfyett said that Shirpurkar definitely deserved to win the title of Student of the Year.
"Oh absolutely, without a doubt," Delfyett said. "Without a doubt."
He said Shirpurkar is a team player when the other guys need extra hands, but he can also work independently.
"He is a super-duper team player," Delfyett said. "A good research group is really about the quality of the people that make that group up."
Delfyett said that Shirpurkar has the qualities of a strong team player.
"He is an absolute pleasure to have in the group because he models, he embodies, that characteristic quite strongly," Delfyett said.
Shirpurkar said his adviser has been at CREOL for many years and has a pretty good idea of what makes up a finalist for the competition. He said Delfyett was pretty sure he would get in, and he did, so Delfyett was right.
Delfyett said only one student applied for CREOL's Student of the Year from his group, but that was encouraged. He said he always likes to encourage the student that has the best chance to win, and that his group is structured to where the students are at different stages.
"It's like having two sons in the Super Bowl," Delfyett said. "If you have multiple people from your group going at the same time, you hope they both do great; you wish they both could win."
Delfyett said Shirpurkar had papers, conference proceedings, good talks and even top-scored papers from scientific reviewers out in professional industries. He also said that he feels a student is most ready to compete for Student of the Year when they are close to graduation.
"When you are about ready to graduate, that's when your research is most complete," Delfyett said. "That's when the story is the most elegant, and you can tell a story from A to Z. Where someone midway through, well, the i's and the t's aren't quite yet dotted and crossed."
Shirpurkar said the hours spent in the lab are up and down. He said he'll come in as early as 9 a.m., and depending on how much work he has, he'll stay as late as 7 p.m. or 8 p.m. He has limited free time away from the lab but said in his free time, he enjoys taking walks and watching football.
"My guys come early; they stay late," Delfyett said.
Srinivas Pericherla, doctoral student in Shirpurkar's research group and his roommate, said working in science and engineering fields, there are times their work requires them to work up to 14 hours straight. Pericherla said that Shirpurkar can go the hours if the research demands it.
"Because of his experience, he can quickly back things up through analysis, and that's the one thing that will troubleshoot something, and that helps a lot," Pericherla said.
Pericherla said Shirpurkar is very calm-minded and assesses problems that way both in and out of the lab. He is both composed and calm when dealing with hard problems and long days of research, Pericherla said.
"Getting a Ph.D. is the ultimate exercise in delayed gratification," Delfyett said.
Delfyett said the scientific process they go through requires a lot of tweaking. He said you have to persevere through the prolonged process, and that is a quality he sees in all of his students, including Shirpurkar.
"He certainly helps to contribute — to maintain that standard and level of excellence that we like to, you know, have from our group, and so what makes him stand out is that he is, in fact, not just a good student in my group but CREOL's Student of the Year," Delfyett said. "That is standing out."
Delfyett said students come into CREOL for the research track and know very little, so they then have to get trained in the laboratory on the devices they plan to study.
Shirpurkar said the biggest struggle of getting into the research track of optics and photonics studies was during his second year. Since his bachelor's degree was in a separate field, and he changed fields of study later, he went in as a doctoral student who is supposed to put in the work alone, he said.
"Getting into the research was the hardest part because I had no prior background on any of the stuff I'm working on, so I had to learn a lot of stuff on my own," Shirpurkar said.
Shirpurkar said he didn't choose his research project; it was just what was available at the time he joined the college, but he is glad he got in on it, and it was valuable in deciding his career path.
Delfyett said Shirpurkar has done different experiments for his project. One experiment was a high-speed data interconnect that he worked on with Ivy League institutions, Delfyett said.
"What he was able to do was to work with my colleagues at these other institutions and bring the different devised technologies that each one of these partners was developing, and he was able to integrate them all together as a fully-working system to demonstrate this tremendous advance in high-speed data communications and interconnects," Delfyett said.
Shirpurkar also said this communication is important.
"The world is growing, and the need to send data from one point to another is growing, so photonics is a really good solution to help support this growing industry," Shirpurkar said. "Photonics provides solutions in a lot of domains that traditional electronics cannot."
Delfyett said the other experiment Shirpurkar conducted was marrying two technologies together to form an optical frequency divider.
"This type of technology will enable compact cube satellites to be able to be in space and know their positions and orientation," Delfyett said.
This research was incorporated into the presentation that decided he would be the Student of the Year, which wasn't nerve-racking considering he talked about this research at conferences and has been studying it for years, Shirpurkar said.
Shirpurkar said students should enter CREOL's Student of the Year competition because it is a good experience to practice speaking and boost your career as people see you have an award. He also said it is another good credential to add to his resume and benefit his career.
Shirpurkar said he received the news of the winner via a mass email at the same time as everyone else. He said he then went to his colleagues' labs and was congratulated by them.
"It's nice to know that my name is on the record for CREOL for years to come having won the award," Shirpurkar said. "It validates the hard work I put in in the four, five years in getting my degree."
Shirpurkar said now that he's won, he has to start preparing and lengthening his talk at the college's Industrial Affiliates Symposium. With graduation approaching, he is interviewing and prepping for a career in the industry, but he still enjoys research and might return to it later on, he said.
Delfyett said he is sad to see his graduating students go.
"These are men and women that come to work with you, and you're in the trenches day in and day out, 12 hours in the day, who are here five, six years at a time," Delfyett said. "They're like my kids, but there's a time when they've done what they've needed to do, and they are ready to graduate, and you sort of need to cut the apron strings and let them fly."
Shirpurkar said his work ethic was more than just hard work in winning the award and conducting years of optics and photonics research. He said he likes to plan things out before moving forward.
"I realized this in an extremely hard way that just hard work isn't going to get you anywhere," he said. "It's more like you think about where you want to work hard, and then you work hard there."
Note from CREOL staff: Chinmay's abstract and the abstracts of the other 2023 finalists, Alireza Fardoost and Cesar Lopez-Zelaya, can be found HERE.
Previous CREOL Student of the Year winners can be found HERE.