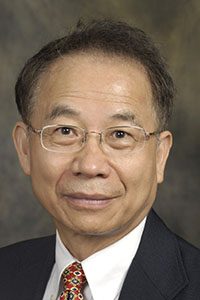 The clear and sharp resolution of LCD screens is ubiquitous today, but their debut came in part through the hard work of Trustee Chair Professor Shin-Tson Wu, Ph.D.
Those contributions to the field of display science and technology were recognized recently by the Academia Sinica (National Academy of Taiwan), which elected Wu as an Academician during their 34th Convocation of Academicians of Academia Sinica. About two-thirds of the Academicians in the Engineering Sciences Division are members of the U.S. National Academy of Engineering.
"The goal of my technology is to enhance the field of optics while simultaneously enhancing the lives of others, the economy and the welfare of society," said Wu.
An expert in virtual and augmented reality, Wu's research in liquid crystal displays and imaging optics has affected display technology around the globe. Inventions such as the mixed-mode twisted nematic liquid crystal cell is a now integral part of high-resolution and high-brightness LCD systems including sunlight readable game consoles and pads, and wearable mini-projectors for augmented reality displays. His technology has paved a foundation for widespread commercial products.
"This Academician election is a great honor and I feel so blessed I can be inducted to this elite group," said Wu.  "Being elected to an Academician is not only a great honor but also influential to help guide Taiwan's future development in display industry and academia."
Wu has known his primary nominators, Eric Lean, Ph.D., and Hwa-Nien Yu, Ph.D., since the early 90s when all three were serving as the technical advisory committee for Taiwan's Industrial Technology Research Institute. Academia Sinica has been on Wu's radar since he was in high school.
"I hope this election will help enhance UCF's international reputation and visibility, which in turn helps recruit top talent," said Wu. "I am grateful to the high visions of UCF leaders, collaborations with my outstanding colleagues, my hard-working group members, and spiritual support from my family members, because without their endeavors, I would not be able to accomplish so much."
Wu hopes that the election will enhance UCF's visibility in the optics community and beyond.
"My hope is that this brings light to UCF's international reputation and visibility. It motivates me to continue delving into new science and technology to contribute to our world," said Wu.