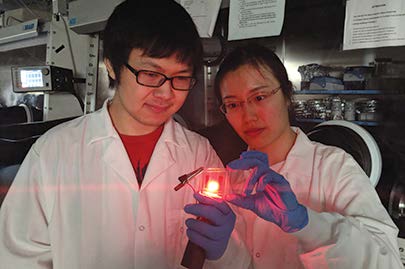 Two CREOL students Hao Chen and Juan Rachel He, from Dr. Shin-Tson Wu's LCD group, were interviewed and their research work on quantum dots for medical applications was published in the September – October issue of Information Display Magazine.
Photomedical researchers have been in search of low-cost, effective illumination devices with form factors that could facilitate widespread clinical applications of photodynamic therapy (PDT) or photobiomodulation (PBM). Student researchers from the University of Central Florida and other scientists recently discovered that ultrabright, efficient deep-red quantum-dot light-emitting devices (QLEDs) could fit nicely into this niche. Their recent paper in the Journal of the SID (JSID) described how a photomedical approach based on these QLEDs could increase cell metabolism over control systems for PBM applications and kill cancerous cells efficiently for PDT applications.
Download the full article here.
Posted Wednesday, October 3, 2018