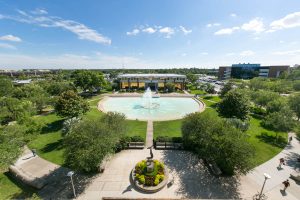 By GENE KRUCKEMYER
Three UCF researchers working on different projects have been awarded a total of about $1.3 million from the Department of Defense.
The grants were part of the DOD awarding of $50 million to 85 institutions across the nation in the Fiscal Year 2021 Defense University Research Instrumentation Program.
The recipients and their projects are:
Ayman Abouraddy, Ph.D., professor in CREOL, the College of Optics and Photonics – Studying Classical Optical Entanglement in Space and Time, $347,786 from the Office of Naval Research.
Brian Kim, Ph.D., assistant professor in the Department of Electrical and Computer Engineering – Massively Parallel Bio-Security and Bio-Computing Research Using In Vivo Neurotransmitters and Synaptic Transmission, $301,207 from the Air Force Office of Scientific Research.
Subith Vasu Sumathi, Ph.D., who holds a joint appointment in CREOL, the College of Optics and Photonics and as an associate professor in the Department of Mechanical and Aerospace Engineering – Micro/Macro (PIV/LIF) High Speed System for Heat Transfer Experiments, $381,311 from the Office of Naval Research.
"These awards represent continued recognition by the Department of Defense of UCF's critical contribution to science and technology," says Michael Macedonia, assistant vice president for research. "It also is a recognition of the leadership of our faculty and their novel ideas to advance research in support of national security."
The Department of Defense seeks specific proposals from university investigators conducting foundational science and engineering research relevant to national defense.
Through the DURIP awards, the DOD supports purchases of research equipment to boost the United States' science, technology, engineering and mathematics workforce.
"DURIP awards help maintain the cutting-edge capabilities of our universities and provide research infrastructure to enable the most creative scientific minds in the country to extend the boundaries of science and technology," says Bindu Nair, director, Basic Research Office, Office of the Undersecretary of Defense for Research and Engineering. "The awards will facilitate scientific advances that will drive unparalleled military capabilities for our country and help train our future STEM workforce."
The annual award process is highly competitive. For the FY 2021 competition, the service research offices received 742 proposals requesting $297 million in funding.
UCF Optics and Photonics researcher, Bob Crabbs, Ph.D.,also received a 2020 DOD award in August for $384,442. The grant was to provide instrumentation to expand and improve atmospheric monitoring capabilities in support of UCF's High Energy Laser and laser communications.
Crabbs is the facility manager and principal investigator at the university's Townes Institute Science and Technology Experimentation Facility at Kennedy Space Center.