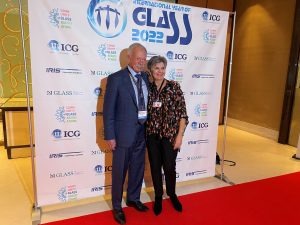 A high-profile global conference celebrating the United Nation's Year of Glass included two professors from CREOL, the College of Optics and Photonics, as top speakers.
The Year of Glass designation recognizes the pivotal role glass has played across centuries and cultures, from ancient Egyptian art to the silica glass in the fiber optical cables that channel the Internet today. The UN designated 2022 the Year of Glass through the petition of a team that included Pegasus Professor Kathleen Richardson, Ph.D. Also representing CREOL was Research Professor Leonid Glebov, Ph.D.
February's two-day conference inaugurated the yearlong celebration of glass, with 90 countries represented across 30 speakers and almost 200 attendees. Glebov traveled to Geneva, Switzerland, to talk in person about "Photo-Thermo-Refractive Glasses for Laser Applications."
Some of those laser applications include creating holograms that can map the Earth's surface within 20 centimeters and increasingly precise cataract surgery.
"There are some really important developments happening in this field. I was glad for the chance to share them," Glebov said.
Richardson virtually presented a talk entitled, "Seeing and Sensing the Future: Enabled by Infrared Glass Innovation." The presentation encompassed the historical development of infrared glass and its potential to address some of the UN's 2030 strategic development goals in quality education, gender equality, climate action, and sustainable cities and communities, among others.
"Glass is renewable and has so many potential applications to address things like climate change," Richardson said. "My talk is focused on illustrating the history of glass, and its potential for the future. It is a good way to get the international community thinking about ways we can collaborate to solve some of these big problems."
Glass science was just a portion of the topics discussed. Other speakers shared insights from areas including industry, academia, the media, museums and art.
"It's significant from my viewpoint that CREOL had two representatives at this conference," Glebov said. "When we were a young center I had to do a lot of explaining. Now you say CREOL and everyone knows what that is."
Zenaida Kotala Gonzalez contributed to this report.