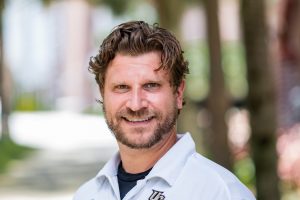 Josh Kaufman's journey to full-time faculty member this fall begins as a self-described "nerdy kid" reading engineering magazines.
Kaufman, Ph.D., '14, chose CREOL, the College of Optics and Photonics, for his terminal degree based on those magazines, and it's proved a prescient choice.
It's given him not only an education and training, but the opportunity to advance the fabrication of multi-material micro-structured optical fibers in the laboratory of Professor Ayman Abourdaddy, Ph.D.
"To rewind the clock to that time, to now being offered a position on the faculty is incredible," Kaufman said.
Kaufman arrived at UCF in 2008 after studying electrical engineering at Purdue University. That laid the foundation for his work at UCF studying fiber structures to produce micro and nanoparticles for nonlinear optical applications such as ultrafast switches, optical computers and processing.
"Throughout my time in the lab my research focus began shifting and it became clearer what my role was going to be in the science we're pursuing," said Kaufman. "Getting my own lab feels like the next natural step because my research has diverged from where I once started. I began on one end of the optics spectrum and am now embracing the material sciences side of my research."
After earning his degree and taking on the challenge of becoming an assistant in Abouraddy's for the last thirteen years, Kaufman reflects on what it's like to accomplish the dreams he once had as a child.
"I'm proud to have gotten to this point in my career," said Kaufman. "It's been a lot of work, but the payoff is worth it."