It is with great sadness that we report the loss of CREOL alumnus Gabriel "Gabi" Popescu '02, who suffered a fatal collision while riding his motorcycle near his home in Romania on June 16.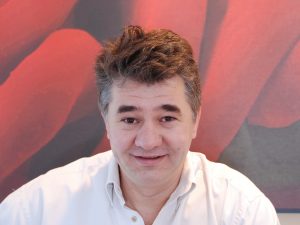 Gabi, who received his PhD in 2002 under the supervision of Aristide Dogariu, was on the faculty at the University of Illinois at Urbana Champaign for many years, becoming the William L. Everitt Distinguished Professor of Electrical and Computer Engineering, and directing the Quantitative Light Imaging Laboratory at the Beckman Institute for Advanced Science and Technology.  He also founded Phi Optics, Inc., a start-up company that commercializes quantitative phase imaging technology. He was a Fellow of OSA, SPIE, AIMBE, and Senior member of IEEE.  Just last year, he was the recipient of the SPIE Dennis Gabor Award in Diffractive Optics.  In 2017, Gabi's outstanding career was recognized with the CREOL Distinguished Alumni Award.
Gabi is survived by his wife, Catherine, his daughter Sofia and his son Sorin. A GoFundMe account was set up to help his family, https://gofund.me/22ffb73a.