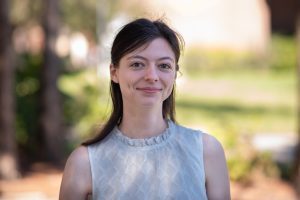 A childhood growing up in the shadow of the Pentagon led Jennifer Hewitt, a Ph.D. candidate at CREOL, the College of Optics and Photonics, to pursue a path that will lead her back to her roots.
The Maryland native has strong family ties to her motivation for working for the U.S. Department of Defense.
"A lot of my relatives are directly involved with the DoD," said Hewitt. "It's always been something that has interested me, especially since it runs in the family."
Prior to her arrival at the University of Central Florida, Hewitt was awarded the SMART Scholarship by the DoD to defray the cost of her education. The parameters of the scholarship require that Hewitt work with the U.S. Air Force upon graduation in Spring 2023 and apply her skills in the optical sciences to projects within the United States military.
"The Department of Defense is one of the most well-equipped institutions for research in engineering. My advisor, Dr. Driggers, once told me that many engineers believe 90% of research has been done already, but when they enter the DoD, they discover that 90% of research has yet to be done," said Hewitt.
Currently studying under Kyle Renshaw, Ph.D., of CREOL's "Knight Vision" Lab has introduced Hewitt to the concept of applying optical sciences to unique subjects. For example, the Burmese python.
"Instead of looking up at the stars, now I'm looking down at the ground," said Hewitt. "As long as pythons don't fly, which last time I checked they don't."
As someone who was originally studying active galactic nuclei and black holes with a background in astrophysics, Hewitt points to the research as proof that optics is a field with range.
"While a lot of my research is highly skewed towards application of sensors for system design, it is still incredibly important to be informed about the characteristics of each component in order to understand how the system as a whole will perform," she said.
Hewitt notes that an education with CREOL and the diversity of her research experiences as a whole have made her feel well-equipped to handle the responsibilities coming her way.
"I am excited to work with the state-of-the-art sensors that the DoD has at their disposal, more specifically designing sensors for target detection," said Hewitt. "My experience with CREOL has been very relevant to my career goals."