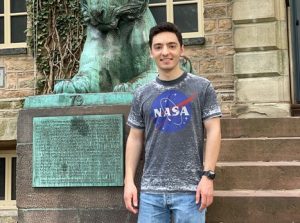 A graduate of CREOL's Photonic Science and Engineering (PSE) program is reaching for the stars while pursuing doctoral research at Princeton University.
Nicholas Kosan '19 will have his research in laser spectroscopy systems supported by NASA through the NASA Space Technology Graduate Research Opportunities.
Throughout the process of attaining his Ph.D, Kosan will work with NASA scientists on spectroscopic technology by enhancing the performance of quantum cascade laser frequency combs. The research aims to enable new avenues of instrumentation that are suited to detect molecules of interest to planetary scientists.
"The purpose of enhancing this technology is to improve the performance of today's spectrometers," said Kosan. "Spectroscopic instrumentation is important for the planetary sciences because it provides data about compositions of extraterrestrial bodies. That data is incorporated in interplanetary missions."
Kosan is pursuing research within his Ph.D in Electrical and Computer Engineering at Princeton University. He is a member of the Gerard Wysocki, Ph.D, PULSe research team that focuses efforts on spectroscopic instrumentation and innovation.
The NASA fellowship supports graduate level research like Kosan's to develop technology relevant to space exploration. The research is expected to be completed within a four-year window.
"My undergraduate studies as a student of CREOL have been tremendously beneficial during this process," said Kosan, who studied primarily in the lab of Professor Stephen Kuebler, Ph.D . "The program provided specialized education in optics and photonics that is so uncommon in other programs of study. When I began my Ph.D., I was already prepared to run much of the equipment and apply measurement techniques that I use in the lab today."
Kosan continues to work diligently on optic and photonic research, and would like to continue contributing to space exploration after graduation.
"Short-term I am very much focused on earning my Ph.D," said Kosan. "I particularly hope I have the opportunity in the long-term to continue contributing to the field of planetary sciences."