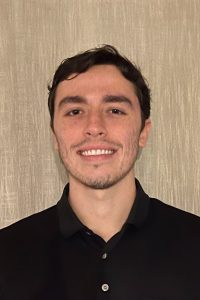 Daniel Enix is a junior studying Photonic Science and Engineering at UCF. His path to UCF and future career plans were recently featured for the student spotlight in the March/April 2022 issue of LIA Today. You can read the original article here.
(Reprinted with permission.)
When you were you first introduced to photonics/electro-optics?
"I was first introduced to photonics/electro-optics as a potential undergraduate electrical engineering student when Mike McKee gave a presentation on the future of this career field and the opportunities CREOL provides."
What or who inspired you to choose your line of study?
"What inspired me to choose this line of study is the unique nature of light. The science of light has always piqued my interest from lasers to imaging and everything in between."
Describe your favorite course you have taken so far. 
"My favorite course so far has been Optoelectronics which covers a vast range of topics. Taught by Dr. Patrick LiKamWa who does a great explaining the fundamental concepts while also providing examples of real-world applications in the past, present, and future."
Are you able to give us any information about your internship with John Hopkins this summer?  
"Yes, I will be completing an Optical Research internship this summer at Johns Hopkins University Applied Physics Laboratory. There I will be supporting efforts on measuring vital signs (heart rate, respiration rate, etc.) via remote sensing and signal processing involving human subjects research."
What would you like to do in the future with your studies? 
"I would like to further my education by attending graduate school with research relating to optics and photonics with the goal of contributing to R&D in the industry environment."