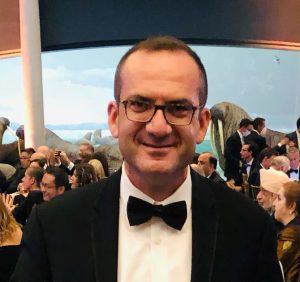 A passion for helping others and the technical expertise to make it happen recently earned a global prize for CREOL graduate Ceyhun Akcay, Ph.D., '05.
As senior director of research and development at medical technology company Alcon, Akcay builds lenses to correct cataracts, the leading cause of preventable blindness.
The implantable lens developed by Akcay and an Alcon team recently beat 19 other major biomedical companies to earn Alcon the Prix Galien award for Best Medical Device Technology of 2021.
"The sense of contribution to improving someone's quality of life is a very fulfilling part of my career to me," said Akcay. "We live in such a visual world. It feels good to help people see again so that they can see that vibrancy life has to offer."
Alcon's goal as a company is to develop innovative technology to help people see better. The AcrySof IQ PanOptix Trifocal Intraocular Lens is used to correct sight in those experiencing partial-blindness due to cataracts. This is the first and only trifocal lens for U.S. patients undergoing cataract surgery.
"Many of our patients are older," said Akcay. "They forgot what it was like to see the world the way they used to in their youth. Our mission as a company is to allow people to remember what that's like."
The lens implantation is available in spheric and toric designs, making it a highly versatile product. The FDA approved the product for use in the United States in 2019 and so far there have been 120 million successful surgeries globally using the Acrysoft IQ platform that PanOptix Trifocal Intraocular Lens is built on.
"It is a nice feeling to see the thrill on the faces of patients that have used and benefitted from our technology," said Akcay.
The AcrySof IQ PanOptix Trifocal Lens caught the eye of medical providers around the world as well as the attention of those heading the Galien Foundation, earning Alcon the winning spot.
"Receiving the award was certainly a moment I'll remember for the rest of my life," said Akcay.  "I was so honored to be receiving this award among such fruitful competition, I almost couldn't believe it."
Akcay originally came to America in 1999 to pursue a master's degree with CREOL from Ankara, Turkey, then decided to stay and pursue his terminal degree. A key reason for this decision was that CREOL provided a place reminiscent of family with its close-knit community of scientists, he said.
"The community of scientists within UCF CREOL are so diverse, yet everyone is just as welcoming as the next," said Akcay. "The experiences I had outside of the lab, such as making potluck dinners or having get togethers at each other's student apartments, made a lasting impact on me as a person. My education was a fruitful experience."