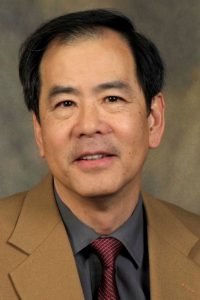 Professor Patrick LiKamWa, Ph.D, has been named the newest associate dean of CREOL, the College of Optics and Photonics.
LiKamWa moved from England to Florida in the Fall of 1989 to pursue his teaching career at UCF. Prior to his arrival, he was working at the University of Sheffield after receiving his Ph.D. in Electrical Engineering from the university.
"I had always heard that the opportunities in the United States were better than anywhere else in the world, but I was afraid of the unknown," said LiKamWa. "I have never regretted making the jump."
LiKamWa became a professor of Optics and Photonics in 2017 and holds a joint secondary appointment in the Department of Electrical and Computer Engineering at UCF.
Research that LiKamWa focuses on when he isn't in the classroom pursues the design, fabrication and testing of optoelectronic devices using semiconductors. He also explores topics such as semiconductor photonic integration for high-speed optical networks and optical sensing applications as well as for high power lasers.
"I  work on technology that is incorporated into products that enhance people's lives, whether it be for entertainment like the internet and video streaming or improving health with better diagnostics," said LiKamWa. "In all these things, photonics plays a significant role."
Even as a young child, LiKamWa notes that the multi-faceted science of engineering has always fascinated him.
"I was always into learning how things work. When I was younger, I'd disassemble toys just to put them back together," said LiKamWa. "As a teenager, I was fascinated just the same. I had already become proficient in soldering electronic components to build circuits."
LiKamWa has been recognized for a number of achievements during his time as a Knight, ranging from the 1998 Award in Teacher Incentive Program to 2018's Excellence in Undergraduate Teaching Award.
"Being a UCF Knight brings about a spirit of belonging that invigorates and increases our level of loyalty, enthusiasm and energy contribution to the community," said LiKamWa. "We all need this feeling of belonging to something much bigger than any of us, and UCF's culture certainly makes it easy to feel that way."