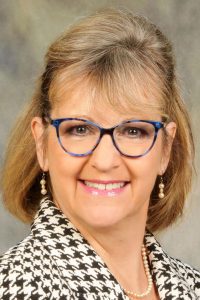 The Arthur F. Greaves- Walker Lifetime Service Award is given to those that show exemplary leadership and innovation in their field. Pegasus Professor of Optics and Photonics and optical material scientist Kathleen Richardson, Ph.D, of UCF CREOL has recently been named the recipient of this award, celebrating her sustained commitment to the field of Ceramic and Glass Science and Engineering and her dedication to the education of the next generation of scientists.
Richardson received her B.S. degree in Ceramic Engineering from the New York State College of Ceramics at Alfred University in 1982. After working at the Lab for Laser Energetics at the University of Rochester shortly after graduation, Richardson returned to Alfred to pursue her Ph.D., becoming a lecturer at the university shortly thereafter.
"Scholarships supported me throughout my academic career," said Richardson. "My parents were both self-employed and it was my financial responsibility to support my education. The school I received my education from is small and in the southern tier of New York. It has built the reputation it has for expertise in traditional ceramic and glass science engineering."
For more than 20 years, Richardson has been a part UCF's CREOL scientific community. After leaving Alfred University for a research engineering opportunity at the Naval Air Defense Laboratory in California, CREOL recruited Richardson for her research in the areas of glass science and optics.
"My Ph.D research in non-oxide glass fibers is what laid the groundwork for my future optical materials activities in my post-doc and academic programs here at UCF," said Richardson.
The Greaves-Walker Lifetime Service Award is presented to a member of the American Ceramic Society who, by life and career, has exemplified the aims, ideals, and purpose of the Education and Professional Development Council of the American Ceramic Society. After hearing that she'd be the recipient, Richardson was thrilled.
"I was so excited to hear that I would be a recipient of this award," said Richardson. "I am humbled to be selected by my peers in the American Ceramic Society. The award highlights not only research accomplishments but my decades of supporting and training the next generation of scientists in my discipline."