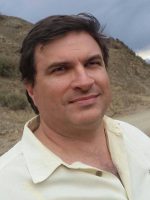 A new astrophotonics program launching this fall in CREOL, College of Optics and Photonics, will be led by an equally new faculty member, Stephen Eikenberry, Ph.D.
While Eikenberry is a UCF rookie, he brings extensive experience studying the cosmos to the college, including credit for discovering one of the brightest and largest known stars with a four-mega pixel infrared camera he built. He's also familiar with his new colleagues, having collaborated with CREOL faculty over the years.
"There are so many forward-thinkers (at UCF)," said Eikenberry, who specializes in the research of black holes, neutron stars and the particles of matter that make them. "I have a lot of room to collaborate with others to help spearhead a program that will be expansive, challenging and growing in relevance around the world."
UCF is the latest stop for Eikenberry on a long journey of exploring astrophysics. Eikenberry is currently a professor of Astronomy and Physics at the University of Florida, where he teaches, researches and builds revolutionary  astronomical instruments to study black holes and massive stars. He begins as professor of applied optics in Fall 2021.
Eikenberry has been in the business of technological advancement since his days at alma maters Harvard and M.I.T., where he first began building powerful infrared cameras to aid in research development.
"My team has created some of the most powerful infrared instruments in the world," said Eikenberry. "Technology like this is what will continue to push programs like those at UCF CREOL to a dominant position in academia as we use it to develop and answer questions."
Students enrolled in the astrophotonics program can expect an introduction to material focusing on dark energy and concepts of light manipulation as they gain a better understanding of our galaxy.
"What we know about the universe comes from studying the light of stars and galaxies," said Eikenberry. "Photonics moves, manipulates and analyzes light in ways that haven't been done before. Combining this with astronomy helps us to make sense of astrophysical objects. That leads to breakthroughs in space-related knowledge."
As Eikenberry trades in his orange and blue for black and gold, he reflects on the opportunities to come in his new home at UCF CREOL.
"I've been at UF for the last 19 years and I will miss my colleagues and the students I've crossed paths with in many ways," said Eikenberry. "But I am looking forward to engaging with the culture of my new home at UCF."