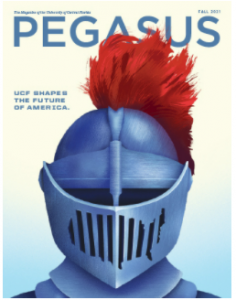 Innovative research underway in CREOL, the College of Optics and Photonics, received several spotlights in the latest issue of UCF's main publication, Pegasus.
A super-resolution microscope funded by $3.3 million in grants is one of them. Assistant Professor Kyu Young Han, Ph.D., is building the microscope to study the movement and network of proteins that carry out essential functions in the human body. More importantly, a map of antibodies, enzymes and transport proteins also helps researchers learn why proteins deviate from routine behavior and cause diseases like cancer, diabetes and Alzheimer's.
Han's microscope aims to produce high-quality images of cells without the current delay of days or even weeks to produce.
"One of our lab efforts is to completely change the engineering, optics and physics of one of the most recent state-of-the-art microscope systems," Han told Pegasus. "We are developing a microscopy instrument that produces protein images more accurately and more quickly, and will be maintenance-free, which will make the research process more efficient and less expensive."
The cover story centers on the role UCF alumni and faculty play in fortifying America's technology infrastructure. CREOL Professor Konstantin Vodopyanov, Ph.D., is developing a device that identifies gases in the air — a critical tool in the event of a biochemical attack.
The device relies on a table-mounted laser that scans the air and reads the resonances (lines)on molecules just like a bar code scanner at a grocery store. Those resonances are unique and invariable to each identifiable molecule, from carbon monoxide to methane.
"We are just beginning to recognize the benefits of this technology," said Vodopyanov, whose research has attracted more than $5 million in funding since he came to UCF in 2013. He continues: the university offers more than opportunities for building corporate partnerships:,"[UCF] has the right environment."