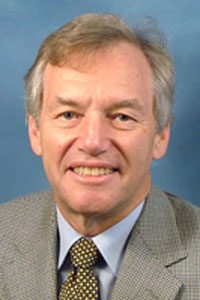 Pegasus Professor Martin Richardson, Ph.D., was recently admitted as a fellow of the Directed Energy Professional Society (DEPS), one of only a handful of academics to do so.
Richardson, a CREOL professor of optics and founding director of the Townes Laser Institute, was chosen for his "longstanding commitment to directed energy through globally recognized academic research in high energy lasers and laser interaction science, and to the education of the next generation of scientists and engineers," according to his citation.  Richardson is also the director of the newly formed UCF Research Center on Directed Energy Systems, Science and Technology.
DEPS Director Mark Neice noted in announcing three fellows that the University of Central Florida is uniquely positioned as a the "primary university research group supporting defense applications of high energy lasers, and a prime source of trained scientists and engineers for the directed energy community."
The other two awardees are U.S. Air Force General Ellen M. Pawlikowski (Ret.) for leading the Airborne Laser Program, and U.S. Navy Capt. Dave Kiel who led the Navy LaWS program, the first maritime tests of directed energy weapons. A former deputy director of CREOL, C. Martin Stickley, Ph.D., was made a fellow of DEPS in 2011.