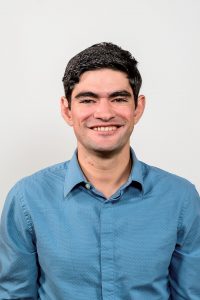 A broad vision for scientific progress and the growing experience to bring that vision to life recently earned Ricardo Bustos-Ramirez the honor of CREOL's 2021 Student of the Year.
The Ph.D. candidate's research focuses on chip-scale optical frequency combs. Potential applications include LIDAR measurements and the search for exoplanets. Bustos-Ramirez has co-authored and published over 25 papers and gained two patents related to his research since 2016.
"This is a great honor," said Bustos-Ramirez. "There is so much talent within CREOL — scientists who are doing such complex and cutting-edge research. It feels nice to follow in the footsteps of those who are dedicated to pioneering and innovating."
Bustos-Ramirez comes to CREOL, the College of Optics and Photonics from Guadalajara, Mexico. It was there that he received his undergraduate degree in electrical engineering. Still yearning for a way to integrate physics into his engineering work, Bustos-Ramirez sought out CREOL to be among some of the leading pioneers in the field of optics.
"CREOL is among the best optics schools not just in the United States, but in the world," said Bustos-Ramirez. "I wanted to see what that was like…to work first-hand with some of the smartest scientists I've ever known."
His current work blends his engineering background and training with a newfound passion for optics. The appeal, he said, is the multitude of applications and variety of fields encompassed by photonic functionalities on a chip.
"All I want to do is bring optics to more and more places, to more and more people…" said Bustos-Ramirez. "There is so much research out there that wouldn't be possible without photonics. In the future I hope we can have photonic chips in every cellphone, in agriculture, in space, etcetera and that I can be someone that through research and design makes this a feasible possibility."
CREOL Interim Dean David Hagan, Ph.D., said the competition was fierce for the award, but the committee was impressed by the dedication Bustos-Ramirez brings to learning and research.
"Mentoring and encouraging the next generation of scientists is just as important as classroom learning. Awards like this are one way we achieve that," Hagan said. "Ricardo is an excellent representation of the talented up-and-coming scientists who are going to change our future."
Bustos-Ramirez is advised by Peter Delfyett, Ph.D. and won the award, in part, on the strength of the presentation of his paper "Chip-scale optical to RF link via harmonic injection locking."
Runners up were:
Ziqian He, advised by Shin-Tson Wu, Ph.D., and his paper, "Miniature planar telescope mediated by liquid crystal polymers." ;
Ben Croop, advised by Kyu Young Han, Ph.D., and his paper, "Development of Intensity-Based Single-Molecule Assays."