Dec 15, 2022, Christmas lunch of OFC group at Bahama Breeze. Also celebrating graduation of Yuanhang (Sailing) Zhang. 
Left: Shree, Seth, Aneesh, Dr. Li, Dhruv, Fatemeh.
Right: Alireza, Amin, Zheyuan, Sailing, Alex, John, and Shiva.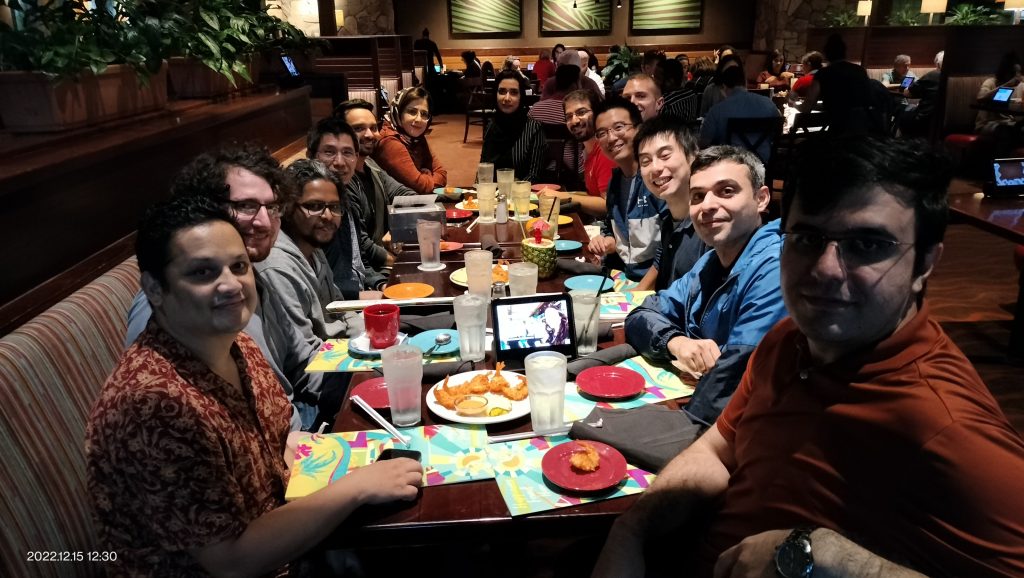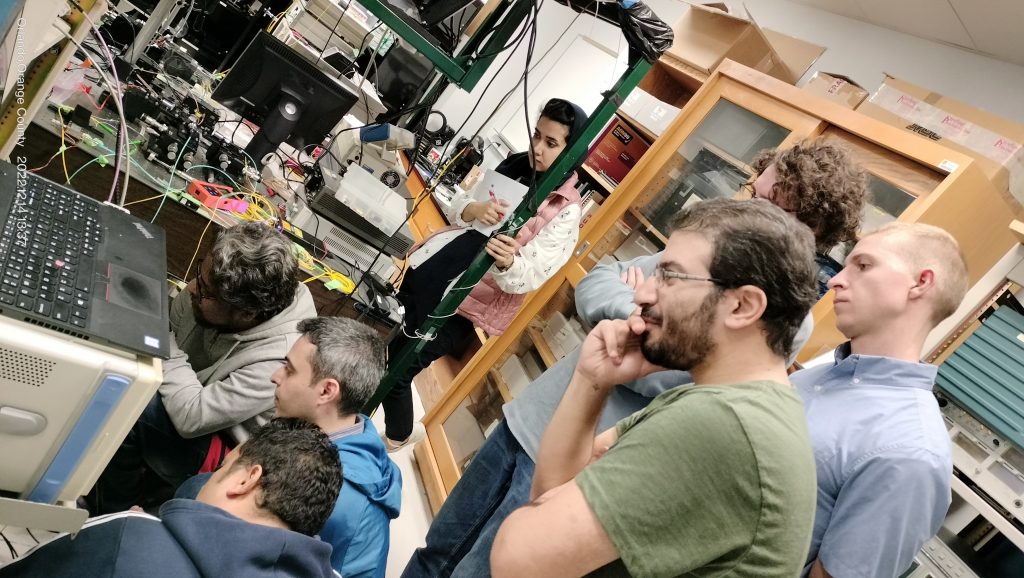 Dec. 14-15, 2022, Dr. Chandra gave a training on basics of OOK transmission experiment (on the use of PPG, Error Detector, intensity modulator, laser, DCA, and OSA, …) Sailing is the photographer. 
Photographs of Seth, Shree and Yuanhang (from left to right) using an IR camera (Nov. 2022)
Yuanhang (Sailing) gave a MPLC training at CREOL (Nov. 2022). The right photo shows a 15-mode MPLC designed by Sailing. 
MPLC wafer dicing at a local Orlando company (from left to right: Frank, Yuanhang, and Seth)   Nov. 2022
Shree is aligning a 45-mode MPLC (12/03/2022)
Seth is holding an IR camera (Nov. 2022)
Yuanhang is testing his fabricated 15-mode MPLC design (Nov. 2022)
Yuanhang is testing his 15-mode MPLC design on a phase-only LCoS (April 2022)
2018 August, OSA student chapter at CREOL is discussing to organize the IONS conference at UCF
Dr. Zheyuan Zhu is working on Clearwater beach, Tampa, 2022 Nov. 25. 
Yuanhang is shaking hands with the Nobel laureate Arthur Ashkin who invented the optical tweezer. Arthur is 97 years old at that time and is still working at home.    2019 Summer at Nokia Bell Labs, Holmdel site.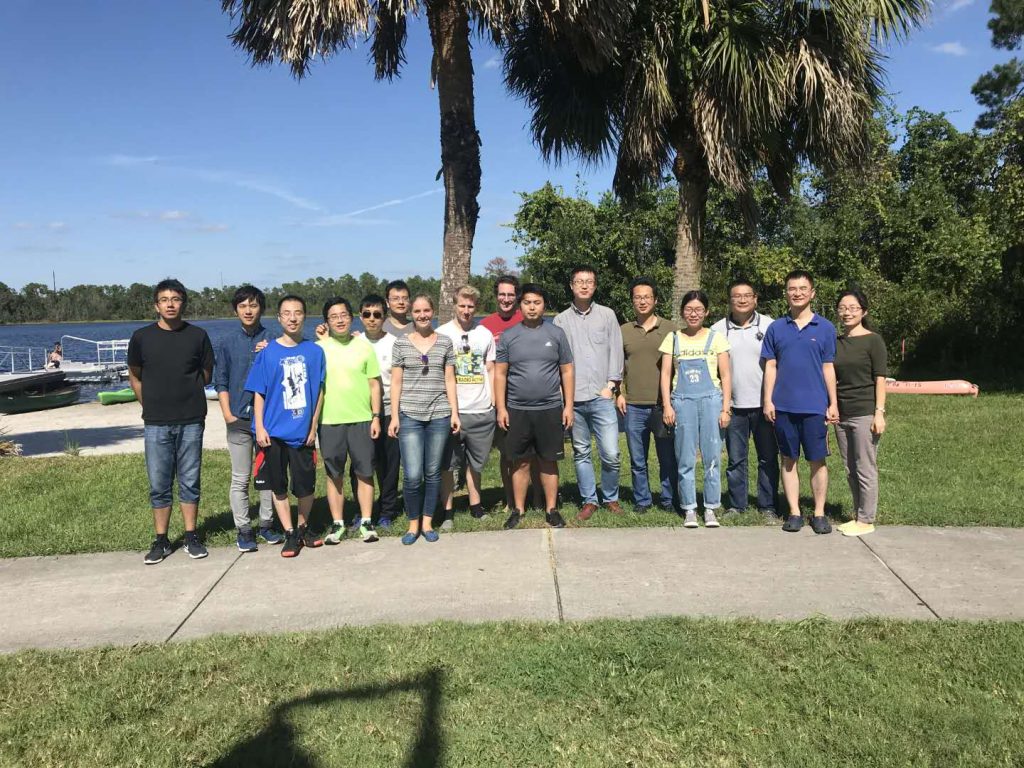 2019 March Picnic at Lake Claire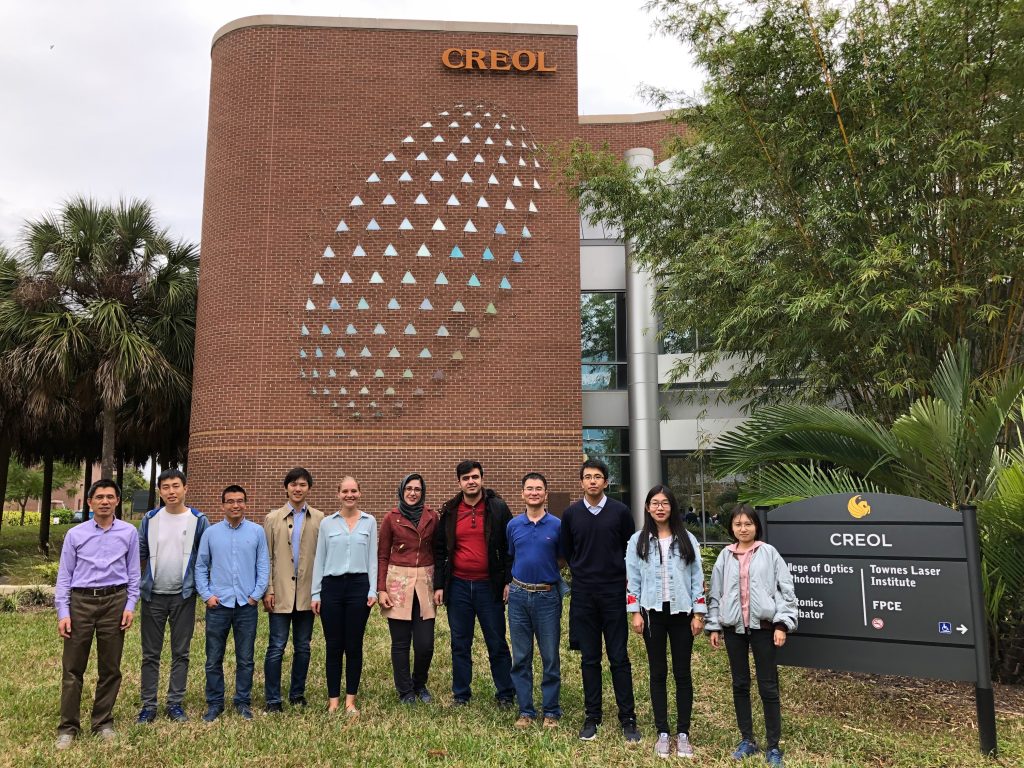 OFC group at 2019 March, from left to right: Dr. Li, Huiyuan, Yuanhang, Xinzhou, Rachel, Fatemeh, Alireza, Dr. Wen, Dr. Zhu, Rui, and Yinping.
2017 Summer, after Sailing passed the qualify exam, he invited all of the group members to a local Chinese restaurant to have lunch. Dr. Jian Zhao promised to invited us to have a big fish BBQ (烤鱼) feast next time. We are still looking forward to it!
Left: Shengli, Yuanhang (Sailing), Seth, and Rachel;
Right: Dr. Zhao, Huiyuan, Bin, Ning, and Dr. Wen.