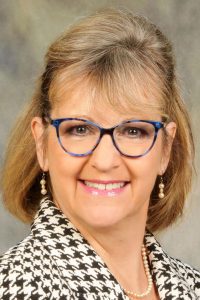 The September edition of the American Ceramic Society's (ACerS) Bulletin publication features Pegasus Professor Kathleen Richardson, Ph.D., one of three people recognized in 2021 as a Distinguished Life Member.
Richardson will officially accept ACerS' highest distinction at an awards banquet in October. The award recognizes a lifetime of achievement that has earned Richardson a worldwide reputation for expertise in novel glass and glass ceramic materials for optical applications. Her work includes more than 250 peer-reviewed publications; a wide portfolio of intellectual property including 21 patents; and numerous domestic and international meeting chair appointments.
Her connection to the industry-leading ACerS organization dates to her undergraduate years at Alfred University, but she officially joined during her early research years at the University of Rochester. Her leadership roles within the organization include sitting on committees like Glass & Optical Materials Division (including a chair role) and most recently as president from 2014-15.
"The importance of optical glass and ceramics is paramount to the expanding performance needs of civilian and military optical systems," Richardson said. "The interdisciplinarity of the Society, its membership and programs, has provided rich education and training opportunities to me and to my students over the years.  Hence, such professional society service is something we can all benefit from, whatever the entity's focus."